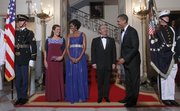 Washington — President Barack Obama and first lady Michelle Obama put on an extraordinary party for 200 elite dinner guests Wednesday night, weaving elegance and iron-clad security into their salute to Mexican President Felipe Calderon.
The Obamas' second state dinner, honoring Calderon and first lady Margarita Zavala, drew celebrities such as actresses Whoopi Goldberg and Eva Longoria-Parker, comedian George Lopez, Olympian Shani Davis and Mexican tycoon Carlos Slim.
They mingled with state and federal lawmakers, diplomats, donors, Obama relatives and friends, many from Chicago, plus West Coast guests including Los Angeles Mayor Antonio Villaraigosa.
Longoria-Parker struck a political note in making her entrance, saying the dinner was timed to the "temperature" over immigration. She took a shot at Arizona's new immigration law, calling it punitive and saying immigration should be a federal issue.
Villaraigosa also weighed in on immigration, saying he expected fair, comprehensive reforms under Obama.
Lopez told reporters: "I'm sitting with a president. They didn't tell me what country."
Beyonce was to headline the after-dinner party.
The four-course dinner was held in the East Room, the largest space in the Executive Mansion, which was vibrantly styled with gold-rimmed china, turquoise silk table clothes and lush, fuchsia-colored floral bouquets.
It was the second state dinner of the 16-month-old Obama presidency. The first one was marred by three uninvited guests, hence there was heavy security on Wednesday.
Illinois state Sen. Iris Martinez said she went through three or four checkpoints before being allowed into the dinner. "Quite a bit of security: three stops and several questions," said another guest, Maria Elena Salinas, a Miami-based anchor for Univision.
Mrs. Obama wore a shimmery, lapis blue, one-shouldered gown by Peter Soronen. Zavala chose a Marcario Jimenez design — a purple, floor-length ensemble with her trademark shawl and an Aztec-inspired collar.
Guest chef Rick Bayless of Chicago helped design the four-course meal. The fare included herb green ceviche of Hawaiian Opah, Oregon Wagyu beef in Oaxacan black mole, and for dessert, chocolate-cajeta tart, toasted homemade marshmallows and goat cheese ice cream with graham cracker crumble.
Bayless, known for creating authentic Mexican cuisine, owns restaurants including Chicago's Topolobampo, where the Obamas had been regulars. Obama welcomed Calderon to the "Casa Blanca" — the White House — and made a toast to "the dreams of our children."
"Together, may we realize those dreams. And together, may we deserve them — by going forward in partnership and respect."
Calderon, in turn, toasted to the "happiness of both our great nations."
Copyright 2018 The Lawrence Journal-World. All rights reserved. This material may not be published, broadcast, rewritten or redistributed. We strive to uphold our values for every story published.