Topeka — Gov. Mark Parkinson today marked the anniversary of the historic Brown v. Board ruling by signing a bill to put a mural about it in the Statehouse.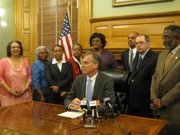 Parkinson said that historically Kansas has always been pivotal "in the struggle for equal rights."
On May 17, 1954, the U.S. Supreme Court declared that segregated schools were unconstitutional. A Topeka case, titled Brown v. Board of Education, was the lead plaintiff in the consolidation of cases from several states that challenged segregation.
Senate Bill 54 sets up a 12-member commission to draft a plan for a mural, which will be financed with private funds.
Supporters of the project hope to have the mural in place within one or two years. After the mural is done, the commission will make decisions about future Statehouse renovations.
Katrina Robertson, president of the Johnson County NAACP, said the mural will allow visitors to the Capitol to celebrate and reflect upon the impact that the Brown decision had on the country.
Copyright 2018 The Lawrence Journal-World. All rights reserved. This material may not be published, broadcast, rewritten or redistributed. We strive to uphold our values for every story published.