Dover, Del. — Kyle Busch would like to believe he would have defeated Jimmie Johnson even without the four-time champion making a rare pit-road mistake.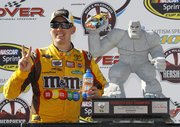 Busch never will know, and he doesn't really care.
When Johnson was penalized for speeding on the final pit stop, that was all the opportunity Busch needed to pull away late Sunday and win his second race in two days at Dover International Speedway.
Johnson made a quick burst out of the box and accelerated trying to catch a departing Busch coming off pit road. Busch joked that he wanted to "coax him into speeding a little bit."
"I don't know if that happened or not, but I'm going to say it did," Busch said.
Busch's victory capped a wildly successful weekend for the Joe Gibbs Racing driver.
Busch missed the tripleheader sweep on the one-mile concrete track by just a couple gallons of gas.
He was in position to win the Trucks Series race Friday but ran out of gas at the end. He easily took the checkered flag in Saturday's second-tier series race and raced about 800 miles in three days.
"It's not going to hurt my feelings too bad to go to bed tonight and know that I lost Friday," Busch said. "I'm going to think more about today."
On Sunday, Busch swapped the lead with Johnson throughout most of the 400-mile race run in front of thousands of empty seats. He expected the duel to continue until Johnson was clocked at 40.09 mph in a 35 mph zone.
"I just had too much forward bite leaving the pit box and got going too fast and got busted," Johnson said.
Busch was sorry he was denied an epic late-race showdown.
"Unfortunately for those guys, they got busted for speeding, and we weren't able to beat them outright and race them around the end of the race," Busch said. "I'm going on a limb to say we could beat them today with or without the penalty."
Auto racing
Dixon takes Top Fuel
Commerce, Ga. — Larry Dixon roared to his 52nd career Top Fuel win on Sunday at the Southern Nationals.
Dixon won his fourth event of the season with a pass of 311.49 mph in 3.913 seconds.
Webber wins in Monaco
Monaco — Mark Webber won the Monaco Grand Prix from the pole on Sunday to lead a Red Bull 1-2 finish on the famous street circuit.
Webber's fourth career win moved him atop the Formula One standings ahead of teammate Sebastian Vettel, who overtook Robert Kubica of Renault at the start and finished 0.4 seconds behind. Both Red Bull drivers have 78 points from six races, but Webber leads thanks to his two wins.
Golf
Scott ends 2-year drought
San Antonio — Australia's Adam Scott made the Texas Open his first PGA Tour victory in two years, shooting a combined 11-under 133 in a 36-hole finale Sunday to edge Fredrik Jacobson by a stroke.
Scott overcame two early bogeys with an eagle on the par-4 17th in his third-round 66, then built his lead with six birdies en route to a closing 67.
Hicks claims 2nd victory
Greenville, S.C. — Justin Hicks won the BMW Charity Pro-Am on Sunday for his second career Nationwide Tour title, closing with a birdie for a 5-under 66.
Hanson recovers, triumphs
Son Servera, Balearic Islands — Sweden's Peter Hanson shrugged off a one-shot penalty and beat Alejandro Canizares of Spain in a playoff to win the Mallorca Open on Sunday.
Forsman cruises
Hoover, Ala. — Dan Forsman made an eagle and four straight birdies on the front nine Sunday on his way to a three-stroke victory in the Regions Charity Classic.
Forsman, who shot a tournament-record 62 in the second round at Ross Bridge, won for the second time on the Champions Tour.
Pak prevails in playoff
Mobile, Ala. — Se Ri Pak ended a three-year victory drought with a birdie on the third playoff hole to beat Brittany Lincicome on Sunday in the rain-shortened — and delayed — Bell Micro LPGA Classic.
NFL
Romo passes on tee time
Irving, Texas — Dallas Cowboys quarterback Tony Romo is going to miss his tee time while practicing football.
Romo earned a spot in open qualifying Monday for the Byron Nelson Championship, this week's PGA Tour event only a few miles down the road from the Cowboys' practice facility.
Except Romo's assigned tee time Monday morning is at the same time he will be taking part in the Cowboys' first organized team activities. Romo says football comes first.
The top four in the 18-hole qualifying event will get in the Nelson, which begins Thursday. Romo shot an even-par 72 at a pre-qualifier last week.
Tennis
Nadal conquers Federer
Madrid — The way Rafael Nadal has been playing on clay, it's hard to imagine he won't take home a fifth French Open title this year.
Nadal improved to 15-0 on clay this season and won a record 18th Masters title Sunday, beating top-ranked Roger Federer, 6-4, 7-6 (5), in the Madrid final.
Nadal, who will return to No. 2 in today's rankings, dodged questions about being the favorite at the French Open starting May 23.
"I'm very happy with everything so far this year. I think I've returned to my top form, and that's the most important thing for me," Nadal said. "Am I favorite to win at Roland Garros? I was last year and I lost."
U.S., Australia tied
Duesseldorf, Germany — Lleyton Hewitt beat John Isner in straight sets Sunday to pull Australia into a tie with the United States on the opening day at the World Team Cup.
A doubles match today will decide the winner in the Red Group, which also includes Spain and the Czech Republic.
The Blue Group is made up of Argentina, France, Germany and defending champion Serbia.
The winner of each group will meet in Saturday's final.
Cycling
Cavendish claims 1st stage
Sacramento, Calif. — Mark Cavendish of Britain surged to the front in the waning meters with the help of his teammates and won the opening stage of the Tour of California on Sunday.
Cavendish, a 10-time Tour de France stage winner, was timed in 4 hours, 4 minutes and 46 seconds in the 104.3-mile road stage from Nevada City.
Horse racing
Winners to miss Belmont
Baltimore — The winners of this year's first two Triple Crown horse races — Super Saver in the Kentucky Derby and Lookin At Lucky — are skipping the Belmont in June. There hasn't been a Triple Crown champion in horse racing since 1978.
Copyright 2018 The Associated Press. All rights reserved. This material may not be published, broadcast, rewritten or redistributed. We strive to uphold our values for every story published.