Photo Gallery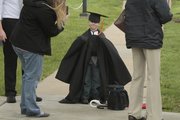 2010 KU Commencement
Kansas University today will recognize the more than 4,500 members of its Class of 2010.
More than half of those candidates for degrees are expected to participate in commencement exercises today.
The traditional walk down the hill to Memorial Stadium is set for 2:30 p.m.
The ceremony will be streamed live at commencement.ku.edu.
The program will also be simulcast in Woodruff Auditorium on the fifth floor of the Kansas Union, and will be broadcast live on KUJH TV (Sunflower Broadband Channel 31).
Free parking is available throughout campus, and free buses will run from 11:30 a.m. to 6 p.m. today.
The route will serve Memorial Stadium, Jayhawk Boulevard, Learned Hall, the Lied Center, Daisy Hill (at the intersection of Engel and Irving Hill roads), the Burge Union, the Ambler Student Recreation Fitness Center, Murphy Hall and the Kansas Union.
Gates to Memorial Stadium will open at 12:30 p.m., and seatback rental and limited concessions will be available at that time.
Faculty and candidates for degrees will assemble at 2 p.m. along Memorial Drive for the procession, which begins at 2:30 p.m. The commencement program is set to begin around 3:30.
Chancellor Bernadette Gray-Little is scheduled to deliver her first commencement address to the graduates.
Copyright 2018 The Lawrence Journal-World. All rights reserved. This material may not be published, broadcast, rewritten or redistributed. We strive to uphold our values for every story published.