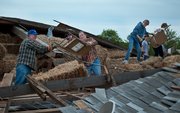 When the residents of De Soto heard about what had happened to Darrel Zimmerman, they said they would do anything to help.
Friday evening, they didn't disappoint.
"We weren't expecting this many people," Dee Mandich, Zimmerman's daughter, said about the volunteers who started coming in after work to help clean up the barn wreckage at Zimmerman's Kill Creek Farm. "People just started showing up. We definitely didn't have plans for this many people."
Shortly after 3 p.m. the call went out for people to come by and help in the cleanup of the historic barn that was destroyed in a storm Wednesday night.
By 5:30 p.m., more than 20 people armed with work gloves and a willingness to help heeded the call.
Some people were working on clearing trees and branches damaged in the storm, while others were finding salvageable parts from the barn wreckage.
Even children, including Zimmerman's grandkids, were out helping any way they could.
The owner of the local Sonic Drive-In donated some food and water to help feed the volunteers.
"I'm just a little bit in awe," Zimmerman said. "If I wanted to say something about it without saying any swear words … it's damn nice to live in a community where you get this much community spirit to help somebody in need."
Zimmerman wanted to get as much salvaged as he could before the big machinery comes in today to start hauling away the rubble.
But there probably won't be an empty space at the farm for long.
Zimmerman said he's already received four leads on replacement barns.
"Right now he's pretty gung-ho about rebuilding, but I bet he'll be sore tomorrow," Mandich said.
Copyright 2018 The Lawrence Journal-World. All rights reserved. This material may not be published, broadcast, rewritten or redistributed. We strive to uphold our values for every story published.