The 59-degree water at Clinton Lake was a little cold for sailor Zach Bader at this weekend's third annual Frayed Knot Regatta.
But Mother Nature cooperated on the most important requirement for the dozens of sailors who raced their Hobie Cat sailboats Saturday off Bloomington Beach.
"It's windy," said Bader, of Gardner.
Bader teamed up with his little brother, Jerod, for several races Saturday and today in an event sponsored by Hobie Fleet 297, the local catamaran sailing club based out of Clinton Lake.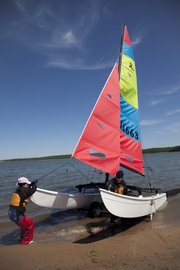 The Bader brothers have been sailing for years — it's a hobby that's in their genes.
"It's kind of a family thing," Zach said. Their grandfather, who was helping out at the weekend event, started them sailing early in life.
The brothers travel to a few events every year and said they enjoy spending time with the other sailors.
"It's just the atmosphere," Zach said. "Everybody just kind of looks out for everybody at the competition."
Several sailors traveled from out of state, including Oklahoman Bev Collins, who was cheering on her husband, Phil, at the race. Bev said they often sail together, and the events allow her to catch up with the friends they meet at the events across the country.
Kansas City, Mo., resident Jess Bradburn, who's been sailing for 20 years, said that when the races are over, the competitors easily bond over their shared addiction.
"It's very competitive on the water. But off the water, it's a real social scene," she said.
Copyright 2018 The Lawrence Journal-World. All rights reserved. This material may not be published, broadcast, rewritten or redistributed. We strive to uphold our values for every story published.