Perry Ellis, who started receiving recruiting letters from major-college basketball coaches as a 6-foot-6 eighth-grader at Wichita's Brooks Middle School, says all that early attention proved a bit overwhelming.
"Yes, but that was eighth grade. I was a lot younger. I've gotten used to it. It's all right now," said Wichita Heights sophomore Ellis, who was photographed dunking the basketball and the subject of a feature story in "Sports Illustrated for Kids" at that young age.
"It's pressure, but I think I can live up to it. It makes me work harder," the 6-8, 210-pound Ellis added of non-stop accolades he has received in his first two years at Heights — including two-time Gatorade state player of the year and ESPN RISE's national sophomore of the year honors.
Photo Gallery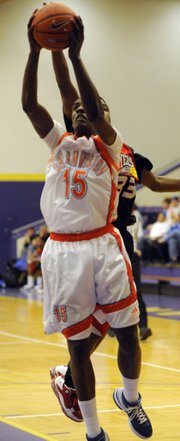 Jayhawk Invitational
Ellis — he averaged 22.2 points and 10.4 rebounds a game in leading Heights to its second straight state title in March — certainly proved worthy of his star status in his Jayhawk Invitational debut Friday night.
Playing before about 1,000 fans at Haskell's Coffin Complex, Ellis scored 25 points off 10-of-15 shooting in Wichita Pray and Play Players' 86-60 loss to Dream Vision — a team of West Coast standouts, including KU target Shabazz Muhammad, who exploded for 31 points.
"I was a little nervous coming in, but when the ball tips up, I'm good," said Ellis, who had played in Lawrence just twice before —at Sport2Sport and MAYB tournaments. "I got into the flow of the game. We've got to play better defense, but we played all right," he added of the newly-formed Pray and Play Players.
Ellis had a pair of vicious dunks. He also showed a soft touch on threes from the deep corner and straight-on.
"Actually, in my eighth-grade year, I had an awkward shot," the smooth-shooting Ellis said. "I just got in the gym and changed it. Repetitive ... shot after shot. I got better by working hard."
Ellis says he has room for improvement his final two years of high school.
"I want to get more intense on the court. That's going to be my goal the next couple years, to get more intense, get more involved and play defense," said Ellis, with an eye on two more state titles.
Ellis has a long list of prospective colleges, including KU, Memphis, Kansas State, Oklahoma, Kentucky and North Carolina. He said he has received offers from all those schools except UNC.
"I like the people here. They are real nice," said Ellis, who has attended several KU games on unofficial recruiting visits.
As to when he'll decide ... he doesn't figure to copy Plano, Texas sophomore Zach Peters, who recently committed to KU with two years of prep ball remaining.
"I'm waiting," said Ellis, who indicated he planned to take official recruiting trips his senior year in accordance with NCAA rules.
The Pray and Play Players will play pool games at 1 p.m. today at Lawrence High's gym and 4:30 p.m. at the LHS west gym.
•
Shabazz explodes for 31: Shabazz Muhammad, a 6-5 sophomore guard from Bishop Gorman High in Las Vegas, hit 11 of 18 shots en route to his 31 points for Dream Vision. He had several dunks, including one off a 360 spin.
"I know there's a lot of fans from KU here depending on me, so I'm going to try to put a show on for you," Muhammad said with a smile.
Of the 360, he said: "My legs weren't that warm. I didn't think I was going to get it, but I tried it anyway."
He has a college list of KU, Texas, UNLV, USC, North Carolina, Duke, Memphis and others.
"I really like it (KU) a lot. I could see myself going here," said Muhammad, who said he'd love to be a visitor for the 2010 Late Night in the Phog.
Teammate Angelo Chol, a 6-8 junior from Hoover High in San Diego, scored 15 points.
"It was a good feeling. I didn't expect all these KU fans to be here," Chol said. "This is a high school game. I didn't expect this. It's pretty amazing."
He has a final five of KU, Washington, Georgetown, UConn and Alabama.
"This is my first time here. We went to Kansas University today and checked it out. It's cool," Chol said.
Dream Vision's Winston Shepard, a 6-6 sophomore forward from Findlay Prep in Henderson, Nev., had six points. He also said he'd love to visit for Late Night in the Phog.
Shepard, who has a long list of prospective colleges, kidded that if his mom was at the game, "She'd hug you guys (reporters) and give you kisses. She loves Kansas. She signed here (in high school), but my grandfather passed away, so she opted to go back to UT (Texas). If there was one school I had to say she would want me to go to, it would be Kansas."
Dream Vision will play at 1 p.m. today at Haskell, and 3:20 p.m. today at Lawrence High's west gym.
•
Withey has slight fracture: Kansas University freshman center Jeff Withey showed up for Friday's games at Haskell wearing a hard cast on his left hand. Withey said he suffered a slight fracture of a bone in his wrist three weeks ago. He had a cast put on the wrist last week and will wear the cast one more week.
"I landed on it funny breaking my fall (playing pick-up ball)," Withey said. "There's a slight fracture in there. They put a cast on it so it would not move around. I don't need surgery or anything. It's fine. I should be playing again in a week and a half."
•
Schedule: The Compton (Calif.) Magic, who boast 6-11 sophomore Isaiah Austin and 5-10 Jahii Carlson, will play at 10:20 a.m. today at Haskell and 5:40 p.m. today at Haskell. The St. Louis Eagles and KU target Ben McLemore (6-5, Eskridge High, St. Louis) are slated to play at 1 p.m. today at the LHS west gym and 3:20 p.m. at Haskell.

Copyright 2018 The Lawrence Journal-World. All rights reserved. This material may not be published, broadcast, rewritten or redistributed. We strive to uphold our values for every story published.