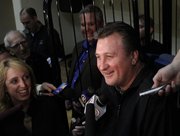 Morgantown, W.Va. — West Virginia point guard Darryl "Truck" Bryant sat out of practice Tuesday, and his availability for the Final Four remains a mystery.
Bryant broke his right foot at practice on March 23, missed WVU's last two games in the NCAA Tournament, then was fitted for a specially designed shoe that would shift weight away from his fractured fifth metatarsal.
WVU basketball spokesman Bryan Messerly said Bryant didn't practice and his status hasn't changed. West Virginia (31-6) plays Duke (33-5) on Saturday night.
Bryant was optimistic the shoe could help him return, but coach Bob Huggins had said he wants to see how Bryant reacted during practice. Bryant didn't show up for media interviews Tuesday, and the team's practice was closed.
"If he can't practice, he's not going to play," Huggins said before practice. "We're not going to throw him out there without knowing what he's going to do. At some point in time here he's going to have to practice.
"I won't know really until he comes out and we see what he does. And then it's a whole lot different walking and jogging on the treadmill than it is coming out here and cutting and doing the things that we have to do out here."
Copyright 2018 The Associated Press. All rights reserved. This material may not be published, broadcast, rewritten or redistributed. We strive to uphold our values for every story published.