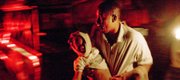 A 7.0 magnitude earthquake occurred 10 miles southwest of Port-au-Prince on Jan. 12, causing widespread devastation in Haiti's capital and throughout the country.
Port-au-Prince, Haiti — Aid officials say they have finally figured out where to put hundreds of thousands of Haitians who lost their homes in a cataclysmic earthquake: right back where they came from.
Dreams of vast relocation camps have largely evaporated because of a lack of available land. And nobody wants to leave people living in the streets under makeshift tents of plastic and bed sheets with the official May 1 start of the rainy season looming.
So Haitians like Marie Carmel Etienne are moving back home, helped by a team funded by the U.S. Defense Department that has promised to remove the debris of shattered buildings in one Port-au-Prince neighborhood if people will dump it in the street in front of their lots.
The 55-year-old stylist in a floppy hat spent better than two decades in Brooklyn and Miami before moving back to Haiti and opening a beauty parlor in her three-story home. It all collapsed in the Jan. 12 quake, so she has been sleeping under a tree at her mother's house, dodging falling mangoes at night.
She enlisted neighbors to smash the pink-painted concrete into bits and cart them into the street for the American team to pick up.
"My U.S. taxes coming back to me," she said, pointing to a U.S. Navy engineer, Melvin Acree. "My Haitian taxes, they do nothing."
For Acree's team of bulldozer, Bobcat and dump truck drivers, the task never seemed to end.
"Look at this! We cleared this street out!" Acree said with a laugh as he stepped into the sauna-like air on a street blocked anew by a mountain of broken concrete and twisted rebar.
Shelter is likely to be the dominant issue at a critical U.N. conference Tuesday in New York, where international aid donors are considering about $11.5 billion in aid requests.
Some 1.3 million people lost their homes in the Jan. 12 quake; hundreds of thousands are on the capital's streets, hillsides and dangerous riverbeds with at most a tarp or flimsy wood between them and the sky.
The new plan — now accepted by major international groups, including U.N. agencies and the U.S. Agency for International Development — looks like this: Those who can will be encouraged to return to homes that engineers have deemed safe. Those who can't will be given help removing debris so they can return to their own neighborhoods.
Others will try to find host families for the time being. Aid groups will try to improve existing camps for those with no place else to go.
Only a small number, as a last resort, may be moved to relocation camps.
The International Organization of Migration estimates 245,000 individuals are at high risk of flooding or mudslides in the makeshift camps where they now live, though a just-completed U.S. military survey said fewer than 37,000 need to be moved urgently.
Haitian and foreign officials initially proposed huge relocation camps, but that idea has largely fizzled after weeks of fruitless wrangling with private landowners and because of fears they could become new, permanent slums.
Copyright 2018 The Associated Press. All rights reserved. This material may not be published, broadcast, rewritten or redistributed. We strive to uphold our values for every story published.