Brad Stoll wasn't about to take any chances with prize left-handed pitcher Albert Minnis.
So the Lawrence High baseball coach pulled Minnis after six innings in Friday night's 2-1 victory over Blue Springs, Mo., South.
"He probably could have gone on," Stoll said, "but having him healthy in May is more important."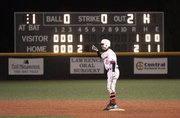 Minnis was dazzling against the Jaguars, fanning 15 and allowing only one hit, a scratch infield single by second baseman Chuck Mason in the fourth inning.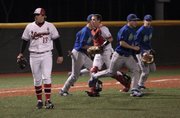 The senior southpaw's outing was a far cry from his season debut last week against an Edmond, Okla., team when he was tagged with the loss in a 7-0 whitewashing.
"I didn't have my A stuff in Oklahoma," Minnis said, "and that was against a team that had already played five or six games."
He had A-plus stuff Friday night. The only run Minnis allowed was unearned.
Junior right-hander Alex Laughlin pitched the seventh and posted a shaky save, walking the bases loaded. But Laughlin also struck out the side, meaning the Jaguars fanned 18 times.
"Alex has a quick arm," Stoll said, "but he didn't have control of his breaking ball."
Both of the Lions' runs were also unearned.
With two outs in the fourth, Matt Sutliffe struck out, but reached first when the ball hit the dirt and catcher Nick Gast failed to throw the ball to first base to record the out.
Moments later, Troy Willoughby walked to place runners on first and second, and bring up center fielder Ross Johnson, the No. 9 hitter.
Then Johnson delivered, plugging the gap in right-center field and scoring both runners with a double — the only extra-base hit of the night.
"He juiced that ball in the gap," Stoll said with a smile, "all 145 pounds of him."
The right-handed hitting Johnson, who was the leadoff hitter on the Lions' JV team last spring, picked on a fat pitch from hard-luck loser Drew Gaspar.
"He left it over the plate," Johnson said, "and I thought I'd take it the other way."
Friday's game was the Lions' home opener and, although played in Lawrence, it wasn't really a home game because it had to be shifted to Free State High's field.
"It's kind of disappointing you have to play your first home game on your rival's field," Johnson said.
Stoll was disappointed, too, but the Lions' new artificially surfaced facility still doesn't have dugout seating and the lights haven't been approved for use.
Lawrence High's next home game is scheduled for April 8 and, Stoll said, "We're hoping the dugouts will be ready."
If not, the Lions may have to utilize their old home at Ice Field because Free State also has a home game on April 8.
Copyright 2018 The Lawrence Journal-World. All rights reserved. This material may not be published, broadcast, rewritten or redistributed. We strive to uphold our values for every story published.