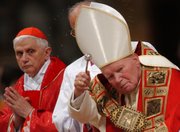 Vatican City — The Vatican is facing one of its gravest crises of modern times as sex abuse scandals move ever closer to Pope Benedict XVI — threatening not only his own legacy but also that of his revered predecessor.
Benedict took a much harder stance on sex abuse than John Paul II when he assumed the papacy five years ago, disciplining a senior cleric championed by the Polish pontiff and defrocking others under a new policy of zero tolerance.
But the impression remains of a woefully slow-footed church and of a pope who bears responsibility for allowing pedophile priests to keep their parishes.
In an editorial on Friday, the National Catholic Reporter in the United States called on Benedict to answer questions about his role "in the mismanagement" of sex abuse cases, not only in the current crisis but during his tenure in the 1980s as archbishop of Munich and then as head of the Vatican's doctrinal and disciplinary office.
It all comes down to the question of what the pope knew and when. The answer will almost certainly determine the fate of Benedict's papacy.
As he approaches Holy Week, the most solemn period on the Christian calendar, victims groups and other critics are demanding Benedict accept personal responsibility. A few say he should resign.
Some fear the crisis will alienate Catholics from the church, with a survey in Benedict's native Germany already showing disaffection among Catholics while there is deep anger in once very Catholic Ireland.
As the climate worsens, the Vatican is showing increasing impatience and even anger, denouncing what it says is a campaign to smear the pope.
L'Osservatore Romano, the Vatican newspaper, said this week there was a "clear and despicable intention" to strike at Benedict "at any cost."
John Paul's legacy
But as attention focuses on Benedict, a perhaps thornier question looms over how much John Paul II, beloved worldwide for his inspirational charisma and courageous stand against communism, knew about sex abuse cases and whether he was too tolerant of pedophile priests.
John Paul presided over the church when the sex abuse scandal exploded in the United States in 2002, and the Vatican was swamped with complaints and lawsuits under his leadership. Yet during most of his 26-year papacy, individual dioceses and not the Vatican took sole responsibility for investigating misbehavior.
Professor Nick Cafardi, a canon and civil lawyer and former chairman of the U.S. bishops lay review board that monitored abuse, said Benedict was "very courageous" to reverse Vatican support for the Legionaries of Christ, a sex scandal-tainted organization staunchly defended by John Paul.
John Paul was already ailing from Parkinson's disease when the U.S. scandal erupted, a factor supporters say may have kept him from initially realizing its scope.
While Cardinal Bernard Law became the most high-profile church figure to fall, resigning as archbishop of Boston over the scandal, John Paul gave him a soft landing, appointing him as head of a Rome basilica and keeping him on various Vatican committees.
The world-traveling John Paul has been put on a fast track for sainthood by Benedict in response to popular demand. Cardinal Jose Saraiva Martins, the emeritus head of the Vatican's saint-making office, said this week that historians who studied the pope's life didn't find anything problematic in John Paul's handling of abuse scandals.
"According to them there was nothing that was a true obstacle to his cause of beatification. They are very strict," Saraiva Martins said.
Praise turns to criticism
For Benedict, a quiet intellectual who will be 83 next month, the scandal must be trying.
Until recently, Benedict had received high marks for his handling of sex abuse — seen as a bright spot amid turmoil over his remarks linking Islam to violence and his rehabilitation of an ultraconservative bishop who denies the Holocaust.
Shortly before his election as pope in 2005 he had denounced "filth" in the church — widely viewed as a reference to clerics who abused children. He proclaimed a policy of zero tolerance for offenders and met and prayed with victims while traveling in the United States and Australia.
Benedict won praise for moving against the Legionaries of Christ, the conservative order once hailed by John Paul that fell into scandal after it revealed that its founder had fathered a child and had molested seminarians.
The Vatican began investigating allegations against the Rev. Marcial Maciel of Mexico in the 1950s, but it wasn't until 2006, a year into Benedict's pontificate, that the Vatican instructed Maciel to lead a "reserved life of prayer and penance" in response to the abuse allegations — effectively removing him from power.
But reaction changed as the abuse scandal moved across Europe and into Benedict's native Germany in recent months, touching the pontiff himself with a case dating to his tenure as archbishop of Munich.
Copyright 2018 The Associated Press. All rights reserved. This material may not be published, broadcast, rewritten or redistributed. We strive to uphold our values for every story published.