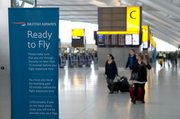 London — Retiree Richard Moore arrived at Heathrow with a suitcase of summer clothes for a Miami cruise only to be sent to Denver. Susan Danby wondered if plans for a joint 50th birthday celebration in Las Vegas would be a losing bet.
The start of a three-day strike by cabin crew at British Airways spurred chaos and passenger angst on Saturday as union members promised more airline and rail walkouts in the coming weeks as Britain prepares for a hotly contested general election.
"This is our dream trip, we booked it last August and we've been planning it for years," said Danby, who was still hoping to get to Las Vegas with her friends. "We all want more money and better conditions, but people shouldn't ruin other people's holidays."
BA's cabin crew are disputing a pay freeze and changes to working conditions. Their Unite union also says BA didn't inform it of cost-cutting plans.
BA said it would handle as many as 49,000 passengers Saturday and today. That compares with the average 75,000 for a normal weekend day in March. At its Heathrow base, more than 60 percent of long-haul flights were operating, but only 30 percent of short-haul. At Gatwick, all long-haul flights and more than half of all short-haul flights were running as normal, as were flights from London City airport, including flights to New York.
The public backlash is bad news for Prime Minister Gordon Brown's Labour Party, which relies heavily on funding from the country's labor unions, and a gift for the main opposition Conservative Party, which is leading opinion polls ahead of a general election due within weeks.
Brown has been stuck between a rock and a hard place, angering Unite — which has contributed some $16.5 million to Labour in recent years — for criticizing the strike action, while at the same time facing criticism from the Conservatives for allegedly bowing to the union.
"This threatens the future of one of Britain's greatest companies along with thousands of jobs," Conservative leader David Cameron said on Saturday. "Will the prime minister come out in support of those people who would cross the picket line? No — because the Unite union is bankrolling the Labour Party."
Cameron is seeking to evoke memories of the difficulties the Labour government had in the 1970s, culminating in the mass strikes that became known as Britain's "winter of discontent" and led to the election of Conservative leader Margaret Thatcher in 1979.
The Conservatives' campaign is being aided by the increasing likelihood of further strikes in the run-up to the April 2-5 Easter break and a national election that must take place by June 3, though a May 6 date is more likely since local elections are already scheduled for that day.
The Rail Maritime and Transport union is expected to announce walkout dates next week after railway signal workers and maintenance staff voted in favor of a strike, while the BA workers are due to go out again March 27-30.
Copyright 2018 The Associated Press. All rights reserved. This material may not be published, broadcast, rewritten or redistributed. We strive to uphold our values for every story published.