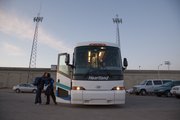 Kansas University basketball teams aren't the only area Jayhawks playing in a big tournament this weekend.
The Douglas County Special Olympics Jayhawks hit the road Thursday morning, looking to win gold at the Special Olympics State Basketball and Cheerleading Tournament in Hays.
About 70 athletes and volunteers boarded a chartered bus early Thursday for a weekend of competition and fun. The cheerleading squad competes Thursday, and five basketball teams will play in tournaments Friday and Saturday.
For volunteer coordinator Sherrie Saathoff, the event is a family affair, as she's traveling to the tournament with her husband and two daughters. Saathoff said the event is always a fun time for the athletes, who will spend time with friends and attend a dance Friday night sponsored by the Special Olympics.
"For a lot of them, this is a vacation," she said. "It's going to be a fun weekend."
Look for more coverage of the tournament in the Journal-World and on 6News Sunday. In addition, a special feature package on Special Olympians will publish in the Journal-World on March 28.
Copyright 2018 The Lawrence Journal-World. All rights reserved. This material may not be published, broadcast, rewritten or redistributed. We strive to uphold our values for every story published.