Photo Gallery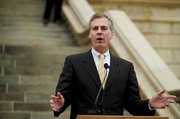 Hundreds attend education rally
At least 1,000 parents, students and educators from across the state on Tuesday asked legislators to make no more cuts to public education funding.
Topeka — At least 1,000 parents, students and educators from across the state on Tuesday asked legislators to make no more cuts to public education funding.
During a rally on the east grounds of the Capitol, Gov. Mark Parkinson, who has proposed a 1 percent sales tax increase and a 55-cent-per-pack tobacco tax increase to close an expected $467 million shortfall for next fiscal year, urged marchers to contact legislators.
"Do we want to be a state that tears down our schools, that refuses to provide education for our school children?" said Parkinson, a Democrat. "Or do we want to be a state that lifts up our schools, lifts up our teachers and provides an education for every kid?
"Let me tell you, we want what's right, not what's left."
The crowd included two busloads of people from the Lawrence group Save Our Neighborhood Schools. The Lawrence school board has already decided to cut 21 teaching jobs and made other program and administrative cuts to save $4.6 million for next school year.
"I think there are substantial numbers of people who do want new taxes so we can maintain the quality of education that we've had in the past," said David Reber, a Free State High School biology teacher.
Several Democrats, including gubernatorial candidate Sen. Tom Holland, D-Baldwin City, said the Legislature needed to make education funding more of a priority. Senate President Steve Morris, R-Hugoton, was originally scheduled to speak at the rally, but his Tuesday schedule prevented it, organizers said.
"Our schools have taken their share of the cuts, but now it's time to increase the revenues," said Rep. Ann Mah, D-Topeka.
Wakarusa Valley School sixth-graders Amanda Coatney and Bethany Ledom marched to the Capitol from the Kansas National Education Association building. They said they were happy that Lawrence school board members didn't vote to close their school for next year, but they worried about future cuts.
"I hope that we get more people to understand why we're here and just know that we're here to save schools and all the little kids going there," Bethany said.
During the rally, participants frequently chanted "save our schools" and "we want what's right, not what's left." Many wore school colors from districts as far away as Colby, and several Save Our Neighborhood Schools signs were visible in the crowd.
Democratic legislators said it would be toughest for tax increase plans to pass the House.
"They think there's waste and inefficiency in our schools, and that we've got to cut more," said House Minority Leader Paul Davis, D-Lawrence. "They need to hear loud and clear from all of you and thousands of Kansans. That is not the right answer for our children. That is not the right answer for the future of our state."
GOP House leaders Tuesday afternoon released a statement that said they were crafting a budget that "slows government spending, strikes a balance between the private and public sector, and maintains essential government services, all without a tax increase."
"We should resist the Democrats' proposed solution to every fiscal problem — taxes, taxes and more taxes," said House Speaker Mike O'Neal, R-Hutchinson. "We should not expect Kansas taxpayers to make up for government overspending at the state and federal level."
House Appropriations Committee Chairman Rep. Kevin Yoder, R-Overland Park, said Tuesday that the state should reform the school finance formula to give local school boards more flexibility to "raise revenue to protect (against) school closings and teacher firings."
"The answer is not new statewide tax increases that will slow the economy further and lead to further inequities in the school finance formula," Yoder said. "We must freeze spending at the state level but allow local communities to have the tools necessary to meet their demands and desires."
Copyright 2018 The Lawrence Journal-World. All rights reserved. This material may not be published, broadcast, rewritten or redistributed. We strive to uphold our values for every story published.