Topeka — The Kansas House on Wednesday gave preliminary approval to a bill that would designate little bluestem as the official state grass.
The 30-minute debate was dominated by amendments proposing different grasses, and comments from legislators who said the House was wasting time.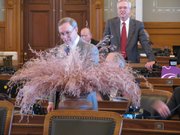 "Let's get her done," and work on more important matters, state Rep. Bill Otto, R-LeRoy, said, His comment prompted people in the House gallery to erupt in applause. State government is in the middle of a budget crisis, with legislators looking at a growing shortfall of more than $400 million.
State Rep. Kay Wolf, R-Prairie Village, said the effort to designate little bluestem as the state grass of Kansas was brought by school children. Wolf said little bluestem grew in every county and she described it as "an icon that represents the prairie of Kansas."
But state Rep. Forrest Knox, R-Altoona, pushed for big bluestem, saying it represented the Flint Hills. State Rep. John Faber, R-Brewster, wanted buffalo grass, saying it played an important part in Kansas history. But the House rejected both those grasses.
One more vote is required before House Bill 2649 can be sent to the Senate for consideration.
Copyright 2018 The Lawrence Journal-World. All rights reserved. This material may not be published, broadcast, rewritten or redistributed. We strive to uphold our values for every story published.