Topeka — Kansas University Chancellor Bernadette Gray-Little on Wednesday told legislators that budget cuts have hurt KU but that officials there remain optimistic.
"There is anxiety," about the economic situation, Gray-Little said to the House Vision 2020 Committee. "But there is great hope and aspirations about the university's future," she added.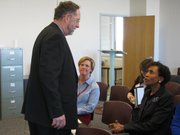 Kansas University has incurred $37.3 million in state budget cuts and unfunded mandates over the past year, Gray-Little said.
That has resulted in 200 positions eliminated and larger classes in many introductory courses, she said.
And despite the demand for engineers and nurses, KU has 40 percent fewer engineering faculty members than the average Big 12 school, and KU was only able to admit 120 nursing students of the 336 qualified applicants this year.
"We are missing the opportunity to provide nurses in an area where there is a great nursing shortage," she said.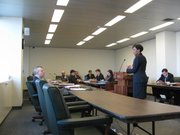 She said the budget cuts have slowed recruitment for researchers and clinical staff at the Kansas Cancer Center in the drive for the National Cancer Institute designation.
But when asked about that, Gray-Little said the NCI designation effort remains on track.
She said that the earliest KU can submit its application for NCI designation is September 2011. Between now and then, KU must continue hiring and recruiting researchers, she said. "There is no point in the next 15 months that we can stop. We can't let up," she said.
Gray-Little also told legislators that once a new provost is hired, KU will evaluate all of its programs to determine how productive they are and how they compare with other schools. Without the expectation of getting increased state funding, she said, "We have to find ways of converting what we already have on campus."
State Rep. Tom Sloan, R-Lawrence, and chairman of the committee, said the panel is looking at longterm "opportunities where we can more effectively partner" with higher education.
Copyright 2018 The Lawrence Journal-World. All rights reserved. This material may not be published, broadcast, rewritten or redistributed. We strive to uphold our values for every story published.