Pebble Beach, Calif. — With each birdie, Phil Mickelson put some life into an overcast day at Pebble Beach and gave himself another chance finally to take something more than silver home from a U.S. Open.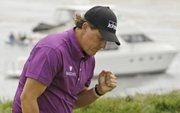 One day after he didn't make a single birdie, Mickelson made six of them Friday. It wasn't enough to catch Graeme McDowell of Northern Ireland, who set the early pace with a 3-under 68 to take a two-shot lead into the weekend, but all that mattered to Mickelson was getting back to even par.
With five birdies in a seven-hole stretch early in his round, Mickelson shot a tournament-best 66 and joined a shrinking group of five players who have beaten par over two days at Pebble Beach.
McDowell was at 3-under 139, and he made even more friends with a bogey on the final hole that assured 60-year-old Tom Watson of two more rounds in what likely will be his final U.S. Open.
Mickelson was joined at 1-under 141 by two-time U.S. Open champion Ernie Els (68), 18-year-old Ryo Ishikawa (71) and Dustin Johnson (70), who has won the last two times in the Pebble Beach National Pro-Am and looks right at home in much firmer conditions.
The names weren't important to Mickelson. Only the numbers.
"I'm in a good spot," said Mickelson, whose five runner-up finishes is a U.S. Open record. "I don't look at the leaderboard. I don't look at other players. I look at par. If you can stay around par, you're going to be in the tournament Sunday. That was kind of the goal."
The Masters champion opened with a 75 Thursday.
Copyright 2018 The Associated Press. All rights reserved. This material may not be published, broadcast, rewritten or redistributed. We strive to uphold our values for every story published.