Sonoma, Calif. — Kasey Kahne won the pole Friday at Infineon Raceway in the same car he drove to victory in last year's race on the road course.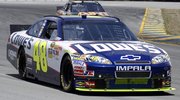 Kahne turned a lap of 93.893 mph around the 11-turn, 1.99-mile course in a Ford for Richard Petty Motorsports. He knocked four-time defending series champion Jimmie Johnson from the pole.
Johnson, who has never won on a road course, qualified second at 93.809 mph in a Chevrolet for Hendrick Motorsports.
"It's a great car," Kahne said. "It's the same car we ran here last year, minus the engine. We've got a new Ford engine that runs really well. I'm looking forward to seeing how it runs throughout the race. Tomorrow (practice) is huge as far as getting the balance right and getting it to turn and hit the corners the way we want to."
Kurt Busch qualified third and was followed by series points leader Kevin Harvick, Jeff Gordon and Marcos Ambrose, who many consider the darkhorse pick to win Sunday's race.
Tony Stewart rebounded from a terrible practice session to qualify seventh, while Bobby Labonte, Greg Biffle and Martin Truex Jr. rounded out the top 10.
Auto racing
Hamlin sticks by showbiz claim
Sonoma, Calif. — Denny Hamlin did not back off last week's insinuation that NASCAR sometimes calls caution for debris just to liven up a race.
Hamlin led by almost 10 seconds last week at Michigan when NASCAR called a debris caution with 15 laps remaining. Although he still won the race, he said after that the caution was because "this is show business."
Asked about it Friday at Infineon Raceway, he didn't change his stance and explained that NASCAR often uses debris cautions to bunch up the field and make the race more exciting.
Tennis
Top seeds face tricky Wimbly paths
Wimbledon, England — Roger Federer and Rafael Nadal face challenging paths to set up another Wimbledon final. Serena and Venus Williams also face potential pitfalls before another all-sister title match.
Six-time champion Federer and Nadal — the only man to beat him at Wimbledon in the last seven finals — were both handed tricky draws Friday for the Grand Slam tournament.
Federer, seeded No. 1 although he has dropped to No. 2 in the rankings behind Nadal, is in the same top half of the draw with Andy Roddick, Novak Djokovic and former champion Lleyton Hewitt. Second-seeded Nadal, who beat Federer in an epic five-set final in 2008, has Andy Murray and Robin Soderling in the bottom half of the draw.
The Williams sisters are seeded to meet again in the final for the fifth time. At least one Williams has played in nine of the last 10 finals, with the sisters sharing eight of the last 10 titles.
NBA
Lakers' parade to be more frugal
Los Angeles — The Lakers plan to mark their championship victory with a more modest celebration than in the past, avoiding the city's downtown business district on its parade route Monday and leaving out the huge rallies that have drawn tens of thousands of fans in previous years.
The scaled-down celebration was likely to cost some $2 million, including police overtime and other city services, which the Lakers planned to pay, team spokesman John Black said Friday.
Game 7 big draw on television
New York — Game 7 drew the highest preliminary rating for an NBA finals game since 1998.
The Lakers' 83-79 win Thursday night on ABC earned an 18.2 overnight rating. That's the highest for an NBA game since Michael Jordan won his last championship with the Bulls in Game 6 of the 1998 finals against the Jazz, which posted a 22.9.
Iverson not ready to retire
Philadelphia — Allen Iverson is working on a comeback. Gary Moore, Iverson's personal manager, said that Iverson is planning a return to the NBA next season. Iverson returned to the Philadelphia 76ers in December and took a leave of absence in March because of family issues. Iverson was the No. 1 overall pick in the 1996 NBA Draft and spent his first 10 seasons in Philadelphia.
Golf
Steinhauer grabs ShopRite lead
Galloway Township, N.J. — Sherri Steinhauer has taken the lead after the first round of the $1.5 million ShopRite LPGA Classic.
The 47-year-old, who was sidelined last year after surgeries on both hips, shot a 7-under 64 for a one-shot lead over Natalie Gulbis and Spain's Tania Elosegui.
Dinwiddie leads Saint-Omer Open
Saint-Omer, France — Robert Dinwiddie of England shot a 6-under 65 to lead by a stroke after the second round of the Saint-Omer Open.
Dinwiddie sank six birdies in a bogey-free round Friday to move to the top of the leaderboard with a 136 total.
Daly 3 back at Fort Smith
Fort Smith, Ark. — John Daly shot a 2-under 68 and finished three strokes off the lead after the second round of the Nationwide Tour's Fort Smith Classic on Friday.
Daly finished tied for fifth at 6 under at the 6,783-yard Hardscrabble Country Club course. First-round leader Nathan Smith (70) is again atop the leaderboard at 9 under after two rounds. Zack Miller (66) is one stroke behind.
This is Daly's first Nationwide event since 1991.
Copyright 2018 The Associated Press. All rights reserved. This material may not be published, broadcast, rewritten or redistributed. We strive to uphold our values for every story published.