Columbia, S.C. — Accusations of infidelity couldn't sink Nikki Haley. An alliance with the state's disgraced governor couldn't do it either. She's an Indian-American in a state not known for embracing women and minority candidates? No problem.
Just months ago, Haley, 38, was an obscure state lawmaker. Now she's the odds-on favorite to become the state's first female governor, helped by an anti-establishment message that has endeared her to conservatives and tea party voters.
Along the way, she has drawn comparisons to her party's most public female personality, 2008 vice presidential candidate and former Alaska Gov. Sarah Palin, who endorsed her in May.
"She has what people had hoped Sarah Palin had had," said Kendra Stewart, a College of Charleston political scientist. "I think people felt like Sarah Palin was lacking the substance but Nikki Haley actually has that substance."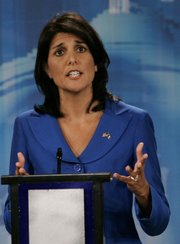 Allies, enemies
Haley almost won last week's primary outright with 49 percent of the vote, but because she didn't get more than half, she faces a runoff Tuesday against second-place finisher and U.S. Rep. Gresham Barrett.
Barrett, who got 22 percent of the vote, isn't going without a fight. He has questioned Haley's record and run ads emphasizing he is a Christian family man, a swipe at Haley, who was raised a Sikh, baptized a Methodist and had marriage ceremonies in both faiths. Her most vocal critic, Lt. Gov. Andre Bauer, finished last in the four-way primary and has endorsed Barrett.
But conservatives are rallying around Haley, who has called for term limits, smarter spending, and more transparency in how taxpayer money is handled.
Conway Ivy, 68, a retired businessman from Beaufort, said he likes Haley as she stands for "less taxes, less government and more freedom."
Haley is set to appear today with former Massachusetts Gov. Mitt Romney and his wife, Ann, who has battled multiple sclerosis and doesn't campaign frequently. On the trip with them: Attorney General Henry McMaster, a former state GOP chairman who had been seen as the man to beat but came in third in the primary.
Haley will also be joined by Jenny Sanford, ex-wife of Gov. Mark Sanford, who became hugely popular after her husband disappeared from the state last summer and returned to confess an affair with an Argentine woman.
But Haley has also made enemies, particularly in the state's Republican establishment. She was once a strong ally of Mark Sanford, which made her something of an outcast in the GOP-dominated House. She riled leaders there in 2008 by bucking their resistance to restrictions on payday lending companies and pushing for more recorded votes.
She toured the state with Sanford to highlight that issue. She also stood with the governor last year as he refused to take federal stimulus money, another stance unpopular with legislators, though she distanced herself after he confessed his affair.
'Don't complain … do'
Haley is no stranger to difficult races. She was elected in 2004 in a bid prompted by frustration with taxes and regulation that developed while keeping the books for her family's retail clothing business.
"My parents always said, 'Don't complain about it, do something about it,"' Haley said. A lawmaker who was supposed to retire changed his mind and she ended up in a tough runoff, winning even though an opponent sent out fliers that stressed her foreign-sounding maiden name, Randwaha.
More recently, state Sen. Jake Knotts was reprimanded by GOP leaders earlier this month after he called Haley a "raghead," saying: "We've got a raghead in Washington, we don't need a raghead in the Statehouse."
But Haley is touting her background as she takes on what she calls the state's "good ol' boy" system. South Carolina ranks 50th in the nation for the percentage of women in the state legislature, and there are none in the Senate, the country's only all-male chamber.
If she wins the GOP nomination Tuesday in this heavily Republican state, she's likely to beat the Democratic candidate, state Sen. Vincent Sheheen, in November.
Beyond that, said Dante Scala, a University of New Hampshire political scientist: "If she wins the nomination, wins the governorship she'll certainly be one to watch for 2016."
Copyright 2018 The Associated Press. All rights reserved. This material may not be published, broadcast, rewritten or redistributed. We strive to uphold our values for every story published.