Pebble Beach, Calif — Shaun Micheel will drop his clubs and walk right out of this U.S. Open if his dying mother needs him by her side back home in Memphis.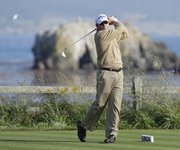 Winning or not, it won't matter.
While Micheel doesn't expect to have to make an early exit from Pebble Beach, his mom isn't supposed to live much past August, if that long.
Donna Micheel's lung cancer has spread to her brain, liver, lungs and spine.
The next milestone for Donna would be her 64th birthday on July 2.
She already made it to Mother's Day and then her 42nd wedding anniversary on June 8.
Nobody would blame Micheel if his mind was far from golf and the Open this week. Yet his mom wants him right here, playing the sport he loves.
Micheel dabbed back tears at the end of his sensational opening round Thursday, when he shot a 2-under 69 for a share of the lead.
Copyright 2018 The Associated Press. All rights reserved. This material may not be published, broadcast, rewritten or redistributed. We strive to uphold our values for every story published.