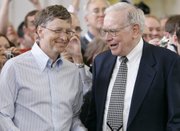 Seattle — Microsoft Corp. co-founder Bill Gates and billionaire investor Warren Buffett are launching a campaign to get other American billionaires to give at least half their wealth to charity.
Buffett, chairman and CEO of Berkshire Hathaway Inc., said in a letter introducing the concept that he couldn't be happier with his decision in 2006 to give 99 percent of his roughly $46 billion fortune to charity.
Patty Stonesifer, former CEO of the Bill & Melinda Gates Foundation, told The Associated Press on Wednesday that Gates and Buffett have been campaigning for the past year to get others to donate the bulk of their wealth.
The friends and philanthropic colleagues are asking people to pledge to donate either during their lifetime or at the time of their death. They estimate their efforts could generate $600 billion in charitable giving. In 2009, American philanthropies received a total of about $300 billion in donations, according to The Chronicle of Philanthropy.
The handful of billionaires approached so far have embraced the campaign, said Stonesifer, a close friend of Gates who offered to speak about the effort.
Copyright 2018 The Associated Press. All rights reserved. This material may not be published, broadcast, rewritten or redistributed. We strive to uphold our values for every story published.