Johannesburg — Its name in Zulu roughly translates to "making a lot of noise" — and it sure does.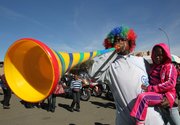 Nothing represents the sheer exuberance of South African soccer fans better than the "vuvuzela," the trombone-length plastic horn that will be heard in force starting Friday at the World Cup.
Some say the vuvuzela — pronounced voo-voo-ZAY-lah — makes a beautiful, boisterous noise. Others call it an annoying racket.
When thousands of the horns are blown in a stadium, they create a buzzing din, described as similar to the wail of foghorns, the trumpeting of a herd of elephants, or perhaps the traffic jam from hell.
One thing's for sure: By the end of the World Cup tournament, just about everyone on Earth will have had a chance to hear them.
Vuvuzelas are sold everywhere in South Africa these days. They have moved from corner shops in poor townships to glittering shopping malls in plush suburbs.
When U.S. team members checked into their rooms at the luxurious Irene Country Lodge near Pretoria, a gift vuvuzela awaited each of them.
South Africa President Jacob Zuma even gave a blast on a vuvuzela at a prayer meeting for a successful tournament.
"It's the culture of the country," South African national team coach Carlos Alberto Parreira said. "We will not change it. We will stress it. We want it louder and louder and louder."
The horns have prompted complaints, but Sepp Blatter, the president of soccer's governing body, declined to ban them for the World Cup, saying they are part of the sport's culture in South Africa.
Some officials, though, have told fans they need to take it easy.
"The level of noise in the stadium — it is an important matter that when we make an announcement in the stadium, everybody must be able to hear it," local organizing committee chief Danny Jordaan said.
"We ask for that particular discipline. We cannot have unmitigated noise levels in the midst of the singing of national anthems," he said. "These are serious issues that we need to address."
Don't expect World Cup fans to keep quiet.
Vuvuzela seller Ndaba Sdombe believes the instruments, which cost less than $3, add excitement to the game.
"Without it, it's a lifeless match. How do you enjoy it?" asked Sdombe, 23.
If you don't like the sound of a vuvuzela, there's also the kuduzela — which makes a deeper and louder noise — and the mini vuvuzela, with a sharper, more piercing noise.
Some soccer fans attach a vuvuzela to a hard hat decorated in team colors, creating a contraption known as the makarapa vuvuzela.
Ayanda Dube, 27, says she believes vuvuzelas can influence how the athletes perform. "When I have it," she said, "players get power from it."
Copyright 2018 The Associated Press. All rights reserved. This material may not be published, broadcast, rewritten or redistributed. We strive to uphold our values for every story published.