Pre-game jitters can be dealt with in a number of ways.
Prior to today's Kansas Ironman 70.3 at Clinton State Park, which takes participants through a 1.2-mile swim, 56-mile bike ride and 13.1-mile run, Lawrence Police Department detective Mike Schneider handled his with a personal day.
"I was supposed to work today," said Schneider, who'll be competing in his first Ironman, during Friday's race check-in. "But I took the day off just because I knew I wasn't going to be able to get any work done."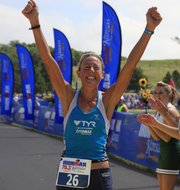 Today's race will include 2,100 athletes from 50 states and 14 countries — a group that includes three-time Ironman world champion Chrissie Wellington, 2007 champion Andy Potts and last year's runner-up, Chris Lieto — and it's safe to assume that even the most seasoned athletes will be dealing with a good deal of anxiety heading into the day.
"The weekend of the race, you're always concerned if you put in enough work," said Norbert Lindig of Overland Park, who'll be competing in his second consecutive Ironman event. "This is a distance that you can't just wing it."
The good news for racers is that the intangibles seem to be working in their favor heading into the day.
Skies are expected to be clear throughout the morning, and following a stretch of 90-degree days in Lawrence, temperatures are expected to top out in the low-80s today, with a projected temperature of 66 degrees for the race's 6:30 a.m. start.
At the same time, the components of a successful race extend well past climate.
Put in months of training for a single event, many racers will tell you, and there's always the last-minute worry that something will go wrong.
"You always set a time goal, but it's also important to have a backup goal," said Lindig. "Because if something doesn't go right — you lose a (bike) chain or miss an aid station — you still have to have something to shoot for."
"There's so much involved," he added, "that something's going to go wrong."
Race officials have spent the past few days doing their best to ensure that today's event goes off without a major hitch, however, and as of Friday, race director Ryan Robinson seemed confident that pre-race preparations had been executed successfully.
"Weather should be good, we've got a strong volunteer base, the park's good to work with, law enforcement's always great," said Robinson. "So it's been great."
Copyright 2018 The Lawrence Journal-World. All rights reserved. This material may not be published, broadcast, rewritten or redistributed. We strive to uphold our values for every story published.