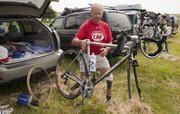 Today's events
The first wave of athletes in the K-Swiss Ironman 70.3 Kansas will enter Clinton Lake at 6:30 a.m. The 56-mile bike course will wind throughout Douglas County. The final leg, a 13.1-mile run, will be on roads and trails in Clinton Lake State Park.
Elite athletes are expected to finish the race in about four hours and the majority of the competitors will finish within five to eight hours.
Honoring the military has become a major focus of the race. Again this year, members of the military will compete in a special Armed Forces Challenge bracket of the race.
Brig. Gen. John E. Davoren will hand out awards to the Challenged Athletes Foundation competitors and military athletes. He will also give commemorative coins to the athletes in the Armed Forces Challenge bracket.
Davoren is a Kansas University graduate, the state's assistant adjutant general and commander of the Kansas Army National Guard.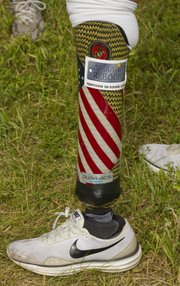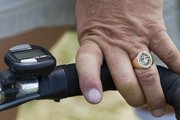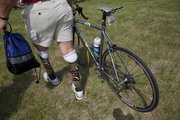 Duane Wagner isn't competing in the K-Swiss Ironman 70.3 Kansas to win.
In fact, he doesn't even consider the 56 miles he will cycle to be a race. He's calling it a ride.
Wagner, a below-the-knees double-leg amputee, has another goal in mind.
"I can show people life goes on," he said.
That doesn't mean 63-year-old Wagner hasn't won races.
A former Marine who has been awarded the Silver Star, Wagner lost both his legs when an enemy hand grenade exploded while he was serving in the Quang Tri Providence of Vietnam. After being told that he wouldn't be able to walk without crutches or a cane, Wagner went on to win nine national and two world cycling titles.
But for Wagner, any race he completes is a victory.
"I've won every race in my life, except one. And that's the one I quit. It's all about finishing," Wagner said.
Wagner, who lives in Mesa, Ariz., doesn't see himself as disabled. Like needing a pair of glasses to see, he said, it's more of an inconvenience.
"I just have to work a little bit harder. That's all," said Wagner, who rides about 300 miles a week.
Now, Wagner says he's too old to race. So he just rides for fun on a bike that isn't much different from what the rest of his competitors are using, with the exception of a high-tech electronic shifting system.
On Saturday morning at Clinton Lake as Wagner was registering, a woman approached him. Her father is a single-leg amputee and she had questions for Wagner.
"That is why I am here. I've talked to so many people," Wagner said as he walked away.
Today, Wagner will be part of a four-member Operation Rebound team competing in the Ironman 70.3. Operation Rebound, part of Challenged Athletes Inc., supports injured military veterans and first responders to help them get active again.
Joining Wagner in the event will be Anthony Smith, an Iraq war veteran who was featured in the Journal-World last year.
Smith will swim the 1.2-mile course using one arm. Nico Marcolongo, program manager of Operation Rebound, and Don Little, a Kansas City triathlete who financially supports the program, will split the 13.1-mile run. Wagner will tackle the cycling portion.
In 2004, Smith was injured by a rocket-propelled grenade while on duty with the National Guard in Iraq. He lost the lower part of his right arm, a kidney, some of his large intestine, a third of one of his femurs, one of his hips and vision in his right eye.
Last year, Smith came to Lawrence to compete in his second triathlon. Since then he has lost another 30 pounds, competed in five other triathlons and opened up martial arts studios.
"It was my big starting point as far as getting back into everything," said Smith, who was more than 300 pounds, wheel-chair bound and a smoker before he started training. "It gave me motivation. If I could do that, I could do other stuff."
Copyright 2018 The Lawrence Journal-World. All rights reserved. This material may not be published, broadcast, rewritten or redistributed. We strive to uphold our values for every story published.