Istanbul, Turkey — Thousands of mourners hailed activists killed in an Israeli commando mission as martyrs Thursday, hoisting their coffins to cheers of "God is great," while Turkish leaders said Israel had jeopardized its relationship with its closest Muslim ally despite meeting Ankara's demand to release the hundreds captured in the raid.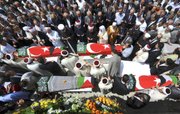 The father of the youngest of the nine activists killed — 19-year-old high school student Furkan Dogan, who had dual U.S.-Turkish citizenship — praised his son for dying in a just cause.
Ahmet Dogan told the state-run Anatolia news agency he identified his boy in the morgue and he had been shot through the forehead. Still, he said, the family was not sad because they believed Furkan had died with honor.
"I feel my son has been blessed with heaven," he said. "I am hoping to be a father worthy of my son."
Dogan, who was born in Troy, New York, but moved to Turkey when he was two, was to be buried in his family's hometown of Kayseri in central Turkey today.
He was one of eight activists mourned at the massive funeral in Istanbul, which came as Israel rejected demands for an international panel to investigate its deadly takeover Monday of six aid ships trying to break Israel's three-year blockade of the Gaza Strip.
Israeli Prime Minister Benjamin Netanyahu has hotly rejected calls to lift the blockade on Hamas-ruled Gaza, insisting it prevents missile attacks on Israel.
The incident has increased tensions in the Mideast, especially with Turkey, an important ally of Israel. On Thursday, Prime Minister Recep Tayyip Erdogan called Israel's actions "a historic mistake."
"Israel risks losing its most important friend in the region if it doesn't change its mentality," he said, adding later that "from now on we will not bow to this bullying."
President Abdullah Gul said Israel committed "one of the biggest mistakes ever in its history."
"Turkey will never forget this attack," Gul said. "The relations between Israel and Turkey will never be the same again."
At Thursday's funeral, 10,000 people prayed outside Istanbul's Fatih mosque before eight Turkish and Palestinian flag-draped coffins lined up in a row. Seven Turks and American-Turkish dual citizen were honored, ranging in age Dogan, at 19, to over 60. A ninth victim, a Turkish man, was having a separate service today.
"Let them do what they want, we know how to be martyrs for Palestine and Jerusalem, and that's what we became," said Bulent Yildirim, the head of the Islamic charity group IHH, which organized the Gaza flotilla, before mourners carried the coffins through the crowd to cars to be taken for burial.
"The whole world supports us," he told the crowd. "We will shake the foundations of Zionism."
Before dawn Thursday, thousands of people had flooded Istanbul's main Taksim Square to welcome home hundreds of pro-Palestinian activists from the aid boats who had expelled. Israel, which has faced strong international criticism for the botched military operation, decided not to prosecute the activists in an effort to limit diplomatic outrage.
In all, 466 activists, including more than 50 foreigners, arrived in Istanbul early Thursday, along with Turkey's ambassador to Israel, Oguz Celikkol.
Israel maintains the commandos opened fire as a last resort after they were attacked, and released a video showing soldiers in riot gear descending from a helicopter into a crowd of men with clubs. Three or four activists overpowered each soldier as he landed.
Israeli officials have insisted that their military is investigating the raid already and the country is capable of conducting a credible review.
"It is our standard practice after military operations, especially operations in which there have been fatalities, to conduct a prompt, professional, transparent and objective investigation in accordance with the highest international standards," Israeli government spokesman Mark Regev said.
Copyright 2018 The Associated Press. All rights reserved. This material may not be published, broadcast, rewritten or redistributed. We strive to uphold our values for every story published.