Kansas City, Mo. — Moments before trotting onto the field, Torii Hunter learned his friend, mentor and favorite player was walking away from the game.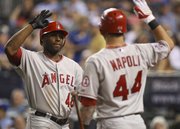 Ken Griffey Jr.'s retirement hit Hunter hard, and the center fielder wanted to honor one of the game's greatest center fielders.
Finishing a triple short of the cycle, it seems he did.
Hunter homered, drove in three runs and had three hits, helping the Los Angeles Angels beat the Kansas City Royals, 7-2, on Wednesday.
"He's one of my favorite guys in the game," Hunter said. "When I heard about it before I went out on the field, it was tough. All day I thought about it, about his career, how he inspired me."
Hunter then went out and played like Griffey in his prime, pounding balls all over the yard, roaming center field with his usual graceful ease.
He got the Angels started against Kyle Davies (4-4), ripping a two-run single, then added a double in third inning. Hunter closed out the night by launching his eighth homer of the season in the seventh, a majestic solo shot to left.
Bobby Abreu hit his 500th career double, four others drove in runs, and the Angels beat K.C. for the 11th time in 13 games over two seasons.
Copyright 2018 The Associated Press. All rights reserved. This material may not be published, broadcast, rewritten or redistributed. We strive to uphold our values for every story published.