Topeka — Kansas Attorney General Steve Six on Thursday filed to run for the office and hit the campaign trail.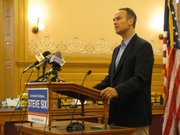 "I'm standing on my record of real results benefiting all Kansans," Six said during a stop in the Old Supreme Court Room in the Statehouse.
Six, a Democrat who lives in Lawrence, was appointed attorney general in January 2008 by then-Gov. Kathleen Sebelius to replace Paul Morrison, who resigned after a scandal involving an extra-marital affair. Prior to his appointment, Six was a state district judge in Douglas County.
Since taking office, Six said his consumer protection division has increased recoveries for consumers by 800 percent, and increased recoveries from Medicaid fraud from $1 million to $17 million.
Six also said his office has focused on putting child pornographers in prison and arresting identity thieves.
Six planned more events Thursday in Wichita and Pittsburg and one Friday in Garden City.
Two Republicans have announced their intention to seek the job. They are Ralph DeZago, city prosecutor for Junction City and a former assistant attorney general, and Senate Majority Leader Derek Schmidt of Independence.
Schmidt was among a group of Republicans who urged Six to join litigation by other attorneys general to challenge the new federal health reform.
Six refused, saying the lawsuit had little chance of success.
Copyright 2018 The Lawrence Journal-World. All rights reserved. This material may not be published, broadcast, rewritten or redistributed. We strive to uphold our values for every story published.