Rick Doll was thrown into the fire during his first year as superintendent of Lawrence public schools.
"Typically, you like to take the first year to kind of observe and get a feel for the organization," Doll said. "And that would have been my plan, but circumstances dictated differently."
The state budget crisis caused the district, after weeks of debate and public hearings in March, to cut $4.6 million for next school year.
As classes in Lawrence wrapped up last week, Doll said the district — and all districts in Kansas — will work to do more with less.
"The biggest challenge coming in and the biggest challenge ongoing will be improving student achievement," Doll said. "And that becomes increasingly difficult with fewer dollars to do that."
During the past year, school board meetings at times were tense, as officials discussed closing elementary schools and other budget cut options, but Doll has received positive reviews this year from board members.
"I think he's done a remarkable job given the situation," said Scott Morgan, the school board president.
Rick Ginsberg, dean of the Kansas University School of Education and a Lawrence parent, said Doll walked into a "perfect storm."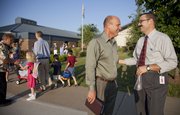 The elements included taking over from Randy Weseman, who had worked in the district for three decades and had the top job since 2000. Board members were talking about reconfiguring the district's schools. And all of this was going on during an unprecedented state budget crisis.
Ginsberg once introduced Doll to a group of superintendents and mentioned timing.
"Yours is about as bad as anybody I know," Ginsberg told Doll.
Goals
Doll said he didn't come into the job last summer from the smaller Louisburg district believing significant changes needed to be made. But the Lawrence district has already undergone some transformation.
Board members voted to change the makeup of all Lawrence schools for 2011-2012, moving to four-year high schools and sixth- to eighth-grade middle schools after one year of planning.
"I think it's pretty phenomenal what we did, and that in no small part is because he does a nice job of walking the board through setting goals and making those goals relevant," Morgan said.
Doll said he was proud of what board members and the district have accomplished this year, including continuing efforts to close the achievement gap, making strides on career and technical education programs, and school reconfiguration.
"We think part of our graduation rate problem can be solved by four-year high schools and developing programs to especially meet the needs of those at-risk kids when they enter secondary schools," he said. "I firmly believe it's going to be good for all kids."
It was an adjustment moving from Louisburg, with about 2,000 students, to Lawrence, which has a public school population of about 10,000 students. Part of the challenge was working to communicate with more employees and meeting the faculty and parent groups at all schools.
Doll said he did his best to meet as many people as possible.
Valerie Johnson-Powell, a Lawrence High School speech pathologist and president of the Lawrence Education Association, said she appreciated Doll's open-door policy and the time he spent in schools.
"It at least has helped alleviate people's fears about all the things that are happening," she said.
In July, Doll will be finishing the first year of his initial two-year contract. His salary for 2009-2010 was $156,000. As part of budget cuts, administrators will take about a 2 percent cut through five furlough days next year, which would put Doll's salary closer to $153,000.
Budget crisis and future
In March, with school closings on the table, Morgan offered a compromise the board unanimously accepted to cut $4.6 million without closing any elementary schools for next year.
Doll said he was proud of how board members worked with the public. He said he wished he had done more to draw attention to the effects of the cuts.
"It seemed like the school closings got the headlines, but in reality we cut $4.6 million that involved programs and people that had a really negative impact on kids," Doll said.
The district has created a task force to study the district's elementary facilities in the next year. Ginsberg, the KU education dean, said the decision on elementary schools seemed to be the way the community wanted to go.
Having watched Doll this year, Ginsberg said the superintendent seemed to be thoughtful and a good listener and that Lawrence was "lucky to have him."
"He's a very upbeat guy. He's smart, and he knows a lot about school districts," Ginsberg said.
Morgan said Doll seemed to pass tests from both the board and the public.
"He is what I thought he was — just a guy who was more than ready for this level of a district, and we were very lucky to find him," Morgan said.
Doll said that going forward the district will have challenges. The budget cuts included not renewing contracts for more than 30 teachers for next year.
"The challenge will be great, and people will have to work harder," he said. "We're going to have to work smarter in meeting the needs of our kids."
Copyright 2018 The Lawrence Journal-World. All rights reserved. This material may not be published, broadcast, rewritten or redistributed. We strive to uphold our values for every story published.