Louisville, Ky. — A woman accused of demanding millions to stay quiet about a tryst with Rick Pitino initiated the sex by whispering to him and unzipping his pants when he got up to leave an empty Italian restaurant, he testified Wednesday.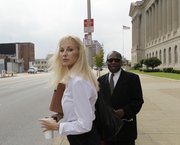 The Louisville coach's testimony marked the first time he has talked publicly in detail about his July 2003 encounter with Karen Cunagin Sypher, the meeting that led to her trial this week on extortion charges. Pitino's portrayal of Sypher as the aggressor came after several witnesses said she was flirty and persistent when she approached Pitino at the restaurant.
Pitino obliged her request to say happy birthday to her son on her cell phone. When she returned later, Pitino said, he bought her a drink. They lingered to talk after the restaurant had closed and the owner had gone home.
As he got up from the table, the married father of five said Sypher whispered something.
"Some unfortunate things happened," Pitino said in the courtroom packed with spectators from basketball-mad Kentucky. "She opened up my pants."
"Did you have sex that night?" Assistant U.S. Attorney Marisa Ford asked.
"Yes, very briefly," said Pitino, who wore a dark suit with a white shirt and red tie. The two have said they had sex at the table.
Sypher, 50, was sitting a few feet away but appeared unfazed by Pitino's testimony, sometimes watching him, sometimes passing notes to her attorney.
Sypher is charged with extortion, asking for cash, cars and a house to stay quiet about the sex. She has pleaded not guilty, claiming Pitino sexually assaulted her. Police and prosecutors have said her assault claim lacked merit.
Pitino, 57, will return to the witness stand today to face questioning from the defense.
NBA
Body found; Wright mourned
Memphis, Tenn. — Relatives and friends of Lorenzen Wright gathered Wednesday and grieved for the former NBA player who has been missing for 10 days, as police investigated the discovery of a man's body outside of Memphis.
Wright's uncle, Curtis Wright, told the Associated Press that police called the player's father, Herb Wright, Wednesday afternoon with the news he had died.
Sgt. Alyssa Macon-Moore of the Memphis Police Department wrote in an e-mail to the AP that police were investigating the death of an unidentified man beside a wooded area about 15 miles south of downtown Memphis. Asked if the man was Wright, she wrote they could not confirm the victim's identity Wednesday night.
Howard, Wizards agree
Washington — A person familiar with the deal says Josh Howard has agreed to a one-year contract to return to the Washington Wizards.
The person told the Associated Press that Howard is set to come back after playing only four games with the team last season. The person spoke on condition of anonymity because the deal hasn't been signed.
Clippers re-sign Butler
Los Angeles — The Los Angeles Clippers have re-signed free agent forward Rasual Butler. He averaged a career-high 11.9 points, 2.9 rebounds and 33 minutes in 82 games with the team last season.
Rockets send C to Toronto for pick
Houston — The Houston Rockets have traded center David Andersen to Toronto for cash and a future second-round draft pick.
The 6-foot-11 Australian averaged 5.8 points and 3.3 rebounds in 63 games last season, his first in the NBA.
College basketball
Huggins released from hospital
Morgantown, W.Va. — West Virginia University says men's basketball coach Bob Huggins has been released from a Las Vegas hospital. He had been hospitalized since breaking seven ribs in a fall in his hotel room on Friday while in Nevada on a recruiting trip.
Soccer
Man U routs MLS All-Stars
Houston — Manchester United turned the Major League Soccer All-Star game into its own showcase of talent.
Federico Macheda had two early goals, Mexican star Javier Hernandez scored in his debut for the Red Devils, and Manchester United routed the MLS All-Stars, 5-2, on Wednesday night in the final exhibition game of its North American tour.
Copyright 2018 The Associated Press. All rights reserved. This material may not be published, broadcast, rewritten or redistributed. We strive to uphold our values for every story published.