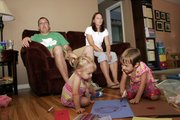 Community living
Lovenheim, the author, has heard several suggestions for neighbors to know those living around them, especially if the doorbell-and-brownies method isn't for you:
• Residents in some areas have created neighborhood maps or directories to try to connect people living in the same area.
• Some have started front-yard gardens — instead of the traditional backyard types — to encourage conversation.
• A neighborhood in Columbus, Ohio, has started a Wednesday-night porch night tradition, where different residents host a party on their front lawn. It's a casual mode of interaction — and with minimal cleaning on the part of the host.
Eric Henry finally knew he was glad to be back in the Midwest. It was three years ago. He was unloading his pickup in central Lawrence after a drive from the West Coast, where he and his wife, Rebecca, and infant daughter, Helen, had been living.
"We had just moved cross-country and were getting settled," Eric Henry recalls. "It was a cool feeling when they came over. We knew we had such a good neighborhood, with such nice neighbors."
"They" were Kari and Corey Koester, who had lived on the block for about a decade.
"We saw them moving in," Corey Koester says with a laugh. ""We said, 'Let's meet these fools.'"
It was the start of a close friendship between the neighbors on the 2200 block of Westdale Road, near Ninth and Iowa streets. Kari invited Rebecca to join her book group. The couples often exchange casual, last-minute dinners — no placemats necessary. Their daughters have play dates.
And they often gather at the driveway of another neighbor, in her 80s, who serves drinks to encourage interaction.
"It's just good luck," Eric Henry says. "Everybody likes each other."
That sort of neighborly friendship isn't as common as it used to be. And, it turns out, those friendships are not all about luck.
According to a Pew Research study, only about a quarter of Americans surveyed knew the names of all or most of their neighbors. Less than half of those talked to neighbors face-to-face about community issues.
This concerns Corey Koester, who grew up in Lawrence.
"When I grew up, we knew all the people on the side of our street," Koester says. "My parents say they don't know anybody now."
Neighbor experiment
This is a concern that hit Peter Lovenheim smack in the face.
It happened a few years ago in his city of Rochester, N.Y., when a neighbor committed a murder-suicide.
The realization hit him then: "Do I live in a neighborhood, or just on a street?" He wondered if someone knew the man involved, or the woman, better, could they have stopped the tragedy from happening?
So Lovenheim, a writer, decided to start a sociology study. He asked his neighbors, most of whom he didn't know, if he could spend a night at their homes.
"My teenage daughter said, 'Dad, you're crazy,'" Lovenheim recalls. "I think what's crazy is it's completely acceptable in our society to live side-by-side, driveway-to-driveway, for years or decades, without knowing each other. It's a lost opportunity."
Lovenheim says there are a variety of reasons why neighbors have drifted from neighbors, including:
• Newer houses have a focus more on back decks than on front porches.
• The prevalence of air-conditioning has people spending more time indoors.
• Housing lots have become larger, with more space between houses.
• Attached garages, with garage-door openers, allow people to go straight into their homes.
• More time spent watching TV, and with other indoor technology.
• And, as Lovenheim puts it: "I think there's this general pervasive sense that if I don't know somebody, maybe I don't want to know them. It's 'stranger danger': Maybe they pose a threat."
Since publication of his book, "In The Neighborhood: The Search for Community on an American Street, One Sleepover at a Time," earlier this year, Lovenheim has heard from a variety of readers who can identify with his plight. One woman said she got to know her neighbors only after they huddled together during a hurricane.
Afterward, she commented: "I found myself hoping for the next hurricane, so we could catch up on each other's stories."
Friendly neighbors
Phil Collison has a competition with two of his neighbors: Which one can shovel the snow at each other's houses first?
"It's really easy to shovel, and I like to shovel," says Collison, who has lived in Lawrence 34 years and in the 900 block of Pennsylvania Street for the last six.
He also mows another neighbor's lawn. It only takes 20 minutes, he says. And heck, he likes to mow, too. And he watches another neighbor's rabbits and chickens when they're out town. That's fun.
Collison says East Lawrence is just sort of like that.
"I think the neighborly thing to do is to know your neighbors," he says. "I think I'm a fairly friendly person, and my core values say you know your neighbors. It helps you. We had a safety campaign after we had some crime that alarmed people. People keep tabs on things. When the microburst hit a few years ago, I knew people when we were helping out."
David Carttar, who grew up in Lawrence and has lived here the last decade, is another believer in knowing your neighbors. He's now president of the Old West Lawrence Neighborhood Association, living in the 700 block of Tennessee Street.
He, too, blames architecture and urban planning — especially the lack of front porches, lack of walkable neighborhoods and the addition of attached garages — as roadblocks to neighbor interactions.
"You have the loss of those accidental interactions," he says. "The loss of walkability reduces people's choices. You can't know things about the people living around you until you run into those people."
That sort of casual interaction has been important to the Koesters and the Henrys, who count themselves lucky to know their neighbors.
"I love the fact my kids know their neighbors," Kari Koester says. "I know it's a safe place, and an extra set of eyes are looking after them."
Copyright 2018 The Lawrence Journal-World. All rights reserved. This material may not be published, broadcast, rewritten or redistributed. We strive to uphold our values for every story published.