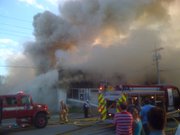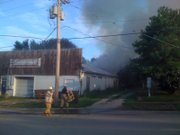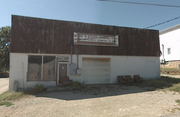 515 E. Woodson
Wood-N-Stuff shop foreman Nick Hosler said he left work at about 4:30 p.m. Monday evening. He returned two hours later to find the business where he worked for 12 years, up in flames.
"Heartbroken in a way," Hosler said. "I put a lot of time and sweat into it; don't want to see it happen to anybody."
Hosler said the cabinet-making business in Lecompton had been in operation for close to 30 years. It sits at 515 E. Woodson, between the post office and the Lecompton United Methodist Church.
As the fire started, vacation bible school was getting underway at the church, with 100 children inside. They were quickly evacuated to a nearby business. No one was injured.
Bob Morris, a life-long Lecompton resident, said the church has been a fixture in the community since at least the early 1900s. He said the building was a hotel before becoming a church. It's where his parents spent their honeymoon, "We're hoping to save the church; not sure we will," Morris said.
The heat from the fire spread to the church, scorching the siding.
Dozens of fire fighters from several different communities arrived minutes after the blaze started. They sprayed water from every side of the building to douse the flames. Combustible items, such as stains and lacquers, inside of the business likely contributed to the fire.
Photo Gallery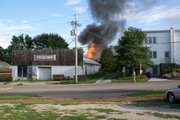 Fire rips through Lecompton cabinet store
Numerous fire crews worked Monday night to keep a fire at Wood N Stuff Cabinets in Lecompton from spreading to nearby buildings.
Morris said he saw the flames rise 50 feet above the building at times, "They had it contained, but it's burning bad inside."
Authorities blocked off several blocks of Woodson street to keep dozens of onlookers from getting too close to the fire. Jon Mast, from Oskaloosa, said he saw the smoke and wanted to get a closer look, "It's too bad, you know, because it's an old building.
Wyatt Sturgeon also stood by to watch the activity in downtown Lecompton, "We were coming back from Lawrence, and saw the flames way off of 24."
The cause of the fire is under investigation. No damage estimate is available.
Copyright 2018 The Lawrence Journal-World. All rights reserved. This material may not be published, broadcast, rewritten or redistributed. We strive to uphold our values for every story published.