Turner Gill, who played both professional football and baseball after his highly successful four-year stay at the University of Nebraska, also knows his way around a golf course.
Gill, Kansas University's first-year football coach, was a surprise participant in Friday's Mario Chalmers National Championship Classic four-person scramble at Alvamar.
"I only play six or seven times a year," Gill said before hopping into a cart with KU assistant athletic director Pat Henderson.
His handicap?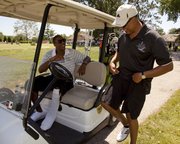 "I don't have one, to be honest with you," Gill said. "I play well enough not to embarrass myself, I can put it to you that way."
Gill — he said he has been playing golf since he was 12 — relished the opportunity to join 100 or so others for a good cause. Chalmers' second-annual tournament benefits cancer research.
"Obviously, Mario has done great things at the University of Kansas, great things in the community and is doing great things for the Miami Heat," Gill said of the third-year pro who hit the shot that forced overtime in KU's victory over Memphis in the 2008 NCAA title game.
"All you've got to do is tie KU to it, and I want to be in support of the great cause he's put together here.
"These days are about over," Gill added of hitting the links in the summer of 2010. "I get this last time out here to play a little golf. It's all good."
Gill will hold the first official 2010 preseason meeting of his football staff Monday before heading to Dallas for Wednesday's Big 12 Media Days.
"Next week will be good to get in football mode," Gill said. "Once you get around everybody ... the other coaches and the media starts talking football. We start back to work Monday with our staff getting ourselves prepared and ready to go. (Monday) is when it really starts."
The 47-year-old Gill, who placed fourth in Heisman Trophy voting as a quarterback in 1983, admitted there are some butterflies heading into Year One at KU.
"Oh yeah, I get nervous. I think that's a good thing. Nervousness is not a bad thing from that standpoint. You just don't want it to go on forever," Gill, former head coach at Buffalo, said. "It's like the first snap of a game. After that, you are ready to go. It's the same way I was as a player and same way I am as a coach."
Gill was enthused about playing golf at 1 p.m. Friday, even with temperatures in the mid-90s.
Asked how he'd avoid wilting, Gill laughed.
"You give me the secret and let me know about it real quick," Gill said.
He soon will be coaching his Jayhawks in similar weather. Players report on Aug. 3, with the first practice Aug. 4.
"You are going to have to play in it, so you've got to prepare yourself to get used to it in that type environment," Gill said. "Again, nobody has any advantage over anybody else. We all are in the heat, getting ready to go for those first couple ballgames particularly."
Perkins takes part: KU athletic director Lew Perkins played in Friday's tournament. He rode a cart with KU broadcasting legend Max Falkenstien.
"I love the fact Mario gives back, and I love the fact he comes back here," Perkins said. "I think it's a tribute to everything about our university, everything about Lawrence, Kan., that we have so many young people that come from other parts of the country and want to come back to Lawrence, Kan. I think that's important. It's great to have him back and his whole family back."
Of his own summer on the links, Perkins said: "I love to play. Somebody just asked me if I played a lot. I said I've played a lot, but not enough. There's never enough time to play golf."
This, that: Former KU guard Russell Robinson joined Chalmers as two players from the 2008 title team at Friday's event. The other three starters from the title team, who had been signed up to play, did not attend. ... Former KU players Brennan Bechard, Jeff Hawkins, Aaron Miles, Christian Moody and Wayne Simien participated, as did KU basketball staff member Kyle Keller. ... New Perry-Lecompton coach Hawkins said Friday that former KU center Moulaye Niang would be his assistant at P-L and be head coach of the JV team . ... Former KU director of basketball operations Ronnie Chalmers hit the ceremonial opening tee shot. His son, Mario, is on crutches as he recovers from a severe left-ankle sprain. "I wish," Chalmers said of playing on Friday. "I took a lot of practice lessons this year to be ready for the tournament. Unfortunately, with my ankle, I have to sit out."
Copyright 2018 The Lawrence Journal-World. All rights reserved. This material may not be published, broadcast, rewritten or redistributed. We strive to uphold our values for every story published.