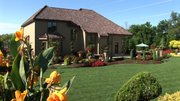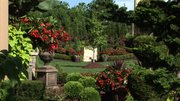 Like an artist with a blank canvas, Todd Kunkel unleashed his gardening creativity on the blank slate that was the meagerly planted grounds of his newly built Overland Park home. The result is a landscaping masterpiece recently featured in Kansas City Home and Garden magazine and the subject of this week's "Home and Away."
The eclectic display includes elements reminiscent of a formal European garden effectively combined with modern and tropical touches within the natural Kansas setting.
"I don't know if I'll ever consider it complete. I think it will always be a work in progress," says Kunkel of the picture-perfect, four-years-in-the-making project.
Inspired by travels in the states and abroad, Kunkel, a pharmaceutical educator, incorporates color, texture, shape and size into his appealing palette of plantings.
Twin 52-inch contemporary bowl planters flank the front entrance of the home and overflow with lime green sweet potato vine, tropical gold cana and elephant ears.
The showstopper lies around back. A kidney-shaped, honed marble patio is on fire with red begonias. Massive, Old World urns burgeon with red dragon wing begonias, topped by macho ferns and anchored with vinca vine. The sphere of the focal-point modern water fountain is replicated in round, bowl-potted boxwoods that sit atop stone columns flanking the patio's perimeter.
A privacy-providing berm spans the rear and sides of the yard, boasting quantities of red Knockout roses against an evergreen backdrop of meticulously pruned spiral and columnar junipers that satisfy Kunkel's fondness for Italian cypress. The backside of the berm faces a neighborhood walking trail and features a dry rock bed, yucca and coneflowers while providing passers-by with a teasing glimpse of the sprawling gardens.
"Home and Away" premieres at 6:30 p.m. Mondays on Sunflower Broadband Channel 6 and replays throughout the week.
Copyright 2018 The Lawrence Journal-World. All rights reserved. This material may not be published, broadcast, rewritten or redistributed. We strive to uphold our values for every story published.