Hays — "I can't wait to see her expression."
A lawn-full of volunteers seemed to echo Steve Stegman's sentiment as they waited for Judy Stegman to step out of the car Tuesday evening, her eyes covered with a T-shirt.
Driven by a determination to make his sister's home improvement wishes come true, Steve Stegman, Hays, had staged his own version of the television show "Extreme Makeover."
Stegman, along with his "co-conspirator" and wife, Deb, put his plan to renovate Judy's house into operation two months ago. The renovations, including adding a new porch, repainting and replacing soffit and guttering, were slated to take place when Judy traveled to Chicago for cancer treatment.
"I never have the time to do a lot of the major stuff by myself and I got to thinking, why can't we just do a makeover, not an extreme one, but just a makeover ... and surprise her," he said.
Judy Stegman was diagnosed with an aggressive form of inflammatory breast cancer in March and has undergone three months of chemotherapy treatments.
Steve Stegman's plan involved keeping fundraising efforts a secret from Judy for two months. While businesses held raffles and collected contributions, all their efforts were done without Judy's knowledge.
Although some of Steve's friends pointed out he was "crazy" to try to carry out his plan, he remained optimistic the goals could be accomplished.
"At first, the donations were kind of slow, and then all of a sudden they just took off, and I thought, 'Whoa, it was amazing,' " Steve said. "I'm really thankful and appreciative of everyone who has donated and everyone who has taken part in this."
During the preparation phase, Judy would sometimes stop in to visit her former employer, Heartland Building Center, 2510 General Hays. When forewarned Judy was headed there, her mom, Vita, would phone ahead to let them know Judy was on her way, so employees could hide the donation jugs.
"One time, Judy didn't announce she was going to go there," Steve said, smiling, "But someone saw her pull in the parking lot and hollered back inside, 'move everything, Judy's coming.' "
Although organizing a covert renovation project was sometimes stressful for Steve Stegman, he was determined to stay on a strict timeline and have the project done by the time Judy arrived back from Chicago.
Volunteers showed up during the week Judy was in Chicago, painting and pitching in wherever needed. Sponsors of the renovation included Pheasant Run, Heartland Lumber, Acme Frame Shop and Ideal Refuge.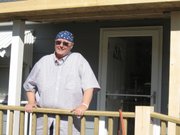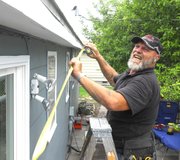 Giving back
Although they had never met Judy, Steve's friends Rob and Danielle Barve from Lindsborg joined volunteers Saturday morning.
"Steve and my husband are really good friends, and he just asked us," Danielle Barve said. "It's for a good cause."
With several of her family members having suffered with cancer, Danielle Barve added, "Anything I can do for a cancer patient, I would do it in a heartbeat."
Steve Stegman said his project was a way of giving back to Judy some of the help and encouragement she had given him over the years.
"Judy is one of those people that puts everybody else before herself," he said. "Once you meet her, you'll never forget her.
"I figured this was the least we can do for her. She's done so much for me."
After moving back to Hays 3 1/2 years ago, Steve said he and Judy have had the opportunity to "become brother and sister again."
'Full of hope'
Family and friends encouraged Judy to go to the Cancer Treatment Center of America in Chicago for a second medical opinion. Once there, she received a round of chemotherapy treatment, and encouragement that treatment of her rare cancer could be successful.
She said her doctor in Chicago told her, "I can say remission. I'm not a miracle worker, but I have the equipment here to do it, and I have the tools to do it."
"I just wanted to wrap him up and bring him home," she said, with a laugh.
"Everybody there is full of hope," she said. "The place gives you hope.
"I advise anybody, if they have a cancer and they're not sure about treatment, they need to check this place out."
When asked what she thought of her newly renovated house, Judy said, "I love it," and said she had no idea what the crew had been plotting and that so many people had been involved in the project.
"I want to thank all the people who contributed. It turned out really good."
With a shake of her head and a smile, she said, "I can't believe this."
Copyright 2018 The Lawrence Journal-World. All rights reserved. This material may not be published, broadcast, rewritten or redistributed. We strive to uphold our values for every story published.