Photo Gallery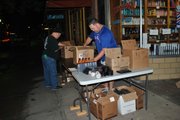 2010 Sidewalk Sale Photos
There were a lot of loose wallets out on Massachusetts Street during Thursday's annual Downtown Lawrence Sidewalk Sale.
Scattered among the merchant booths, local nonprofits — such as The Salvation Army, the Lawrence Humane Society and Douglas County Court Appointed Special Advocates — were doing their best to direct some dollars to their causes.
Over at the Humane Society booth, staff and volunteers were selling T-shirts, animal accessories, and drinks, but many shoppers didn't want anything for their money.
"A lot of people were just making cash donations," said Kayse Aschenbrenner, director of animal welfare. She said the agency would probably make a few hundred dollars during the sale, but would also benefit from the simple exposure and interaction with the public.
Shoppers with some extra cash also helped CASA's programs for abused and neglected children, said executive director Diana Frederick. Her organization even received help from one of the vendors. Jewelry maker Jenny O'Brien, who was stationed next to CASA, was donating 30 percent of her profits during the sale to the organization.
"With the music going and just the festivities, I think people are in a good mood and we're so lucky here in Lawrence. People are very generous," Frederick said.
Copyright 2018 The Lawrence Journal-World. All rights reserved. This material may not be published, broadcast, rewritten or redistributed. We strive to uphold our values for every story published.