Les Rousses, France — Sylvain Chavanel recaptured the Tour de France's lead on Saturday by winning the hot and humid seventh stage as the main title contenders bided their time in anticipation of the upcoming Alpine climbs.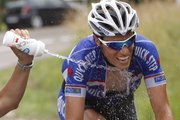 Chavanel raised a fist in joy as he completed the 101-mile run from Tournus to Station des Rousses that featured six low- to mid-grade climbs, crossing in 4 hours, 22 minutes, 52 seconds. The Quick Step rider also won the second stage.
The main title favorites finished 1:47 back, including 2009 winner Alberto Contador of Spain, who was 13th, and seven-time champion Lance Armstrong of the United States in 16th.
Golf
Creamer opens three-shot lead
Oakmont, Pa. — One more day like this, and Paula Creamer will no longer be the best LPGA golfer who hasn't won a major.
Creamer kept her game together as a dozen others were losing theirs on a grueling day at the U.S. Women's Open on Saturday, taking a three-shot lead over Wendy Ward that she hopes will hold up in the final round.
Stricker sets 54-hole record
Silvis, Ill. — Steve Stricker is making it look easy.
He insists that it's not, even after posting stunningly low scores.
Stricker already has broken a couple of PGA Tour records at the John Deere Classic and has more in sight after opening a six-stroke lead with a 9-under-par 62 on Saturday.
That followed rounds of 60 and 66 at the TPC Deere Run course.
Former Kansas University golfer Gary Woodland shot a 65 and is 15 strokes back.
Molinari stakes narrow lead
Luss, Scotland — Edoardo Molinari of Italy shot an 8-under 63 Saturday to take a one stroke lead over Darren Clarke of Northern Ireland going into the final day of the Scottish Open at Loch Lomond.
College football
More alcohol woes for Georgia
Atlanta — Two football players for the University of Georgia were jailed early Saturday morning on alcohol-related charges less than a week after an embarrassing drunken driving arrest prompted the university's athletic director to resign.
Dontavius Jackson, 20, was charged with driving under the influence, leaving the scene of an accident and other motor vehicle offenses. Tavarres King, 19, was charged with underaged possession of alcohol.
WNBA
U.S. routs All-Stars, 99-72
Uncasville, Conn. — Sylvia Fowles stole the spotlight from the UConn reunion at the WNBA All-Star game.
Fowles scored 13 of her 23 points in the third quarter, and the U.S. national team beat the WNBA All-Stars, 99-72, on Saturday in this year's version of the league's midseason showcase.
NBA
Felton leaves Bobcats for Knicks
Charlotte, N.C. — One way or another, the Charlotte Bobcats will have a new starting point guard next season.
Five years after the Bobcats drafted him fifth overall, Raymond Felton agreed to join the New York Knicks. Though precise terms have yet to be finalized, Felton will make $15.8 million for the next two seasons, according to the New York Post.
At minimum, general manager Rod Higgins said, the Bobcats need a backup to D.J. Augustin. Among the point guards who played in summer league games (Augustin didn't play), rookie Sherron Collins of Kansas University showed the most potential.
Hornets agree to terms with Head
New Orleans — The New Orleans Hornets have reached an agreement on a two-year contract with veteran guard Luther Head.
The Hornets are not announcing the deal yet because Head still must pass his physical, but Head's agent, Mark Bartelstein, told the Associated Press on Saturday that the deal paying Head about $2.5 million over two years is done.
Warriors to sign Heat's Wright
According to multiple sources, the Golden State Warriors have reached an agreement with Miami Heat unrestricted free agent Dorell Wright. The deal is for three years and just shy of $11 million.
Baseball
Reyes ruled out of All-Star game
New York — Rafael Furcal was selected to replace Jose Reyes on the National League All-Star team.
Reyes will miss the game next week after his sore right side flared up in the seventh inning of New York's 4-0 loss to Atlanta on Saturday.
Konerko replaces Morneau for AL
Detroit — Paul Konerko was chosen to replace injured Justin Morneau on the AL All-Star team Saturday.
Morneau will miss the game Tuesday night in Anaheim, Calif., because of a concussion. The Twins' slugging first baseman withdrew Saturday, following a doctor's advice, and will return to Minnesota to rest during the break.
Swisher, Young added to HR derby
Anaheim, Calif. — Nick Swisher of the New York Yankees and Chris Young of the Arizona Diamondbacks will participate in the All-Star home run derby, Major League Baseball announced Saturday.
Track and field
Gay edges Powell in 100 meters
Gateshead, England — Tyson Gay of the United States edged Asafa Powell in the 100 meters Saturday at the British Grand Prix.
Gay won in 9.94 seconds, just 0.02 faster than his Jamaican rival in the Diamond League meet.
"I didn't know I'd won, I wasn't sure," Gay said as he walked back across the track, nursing his right hamstring. "I'm still a bit rusty."
Copyright 2018 The Associated Press. All rights reserved. This material may not be published, broadcast, rewritten or redistributed. We strive to uphold our values for every story published.