Well, at least we got a tweet out of LeBron James.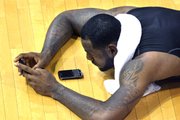 With the Summer of LeBron trudging along, the NBA's most prized free agent opened a Twitter account and posted his first message on the social networking site. While he provided no information about his future plans, he offered something as the NBA awaits the decision on where he'll play next.
"Hello World, the Real King James is in the Building," said the tweet on the kingjames feed, which by 8 p.m. had more than 167,000 followers.
Late Tuesday, Chris Broussard reported that James will announce his decision during a one-hour special at 8 p.m. Thursday night on ESPN.
After arriving for the second day of his skills academy Tuesday four hours later than expected, James spent six hours at Rhodes Arena in meetings and playing ball with several Cavaliers teammates against high school campers before heading home. He didn't speak to reporters before pulling away in his customized Dodge pickup truck.
His decision was still unknown.
"That's the question," Cavs teammate Daniel Gibson said when asked what he thinks James will do. "I don't know. I'm here with the hanging-out, having-fun LeBron. I'm not out here with the business LeBron."
Pro Basketball
Clippers reach deal with Del Negro
Los Angeles — The Los Angeles Clippers reached an agreement in principle with Vinny Del Negro to become the team's head coach.
The team said Tuesday night in an e-mail that more details would be announced today.
Pistons sign first-round pick
Auburn Hills, Mich. — The Detroit Pistons have signed first-round draft pick Greg Monroe. Terms of the deal were not disclosed Tuesday.
The Pistons drafted the New Orleans native with the seventh overall selection in the NBA draft.
Magic reach deal with Duhon
Orlando, Fla. — The agent for Chris Duhon says the point guard has reached an agreement with the Orlando Magic for a $15 million, four-year deal.
Agent Kevin Bradbury told the Associated Press on Tuesday the chance to play for a championship contender was enough to sway Duhon to the Magic. Duhon averaged 7.4 points and 5.6 assists per game last season and will back up starter Jameer Nelson.
Pro Baseball
Cano picked for HR Derby
Oakland, Calif. — New York Yankees second baseman Robinson Cano was one of six players picked Tuesday to participate in the Home Run Derby Monday. Detroit's Miguel Cabrera, Boston's David Ortiz and Toronto's Vernon Wells were also selected in the AL, while Milwaukee's Corey Hart and St. Louis' Matt Holliday will participate for the NL. Two more National League players still need to be picked.
A-Rod to appear at fundraiser
New York — Alex Rodriguez is scheduled to attend a fundraiser for a foundation that educates youth about the dangers of performance-enhancing drugs.
Rodriguez vowed to work with the Taylor Hooton Foundation when he admitted to steroid use last year. The organization honors the memory of a 17-year-old baseball player who committed suicide in 2003. Doctors believe Taylor Hooton became depressed after he stopped using steroids.
Rodriguez and pitcher Andy Pettitte, who has admitted taking human growth hormone, are providing signed items for sponsors.
College Basketball
Former Seton Hall coach arrested
Newark, N.J. — Fired Seton Hall basketball coach Bobby Gonzalez has been arrested on suspicion of shoplifting at a New Jersey mall.
Millburn police say the 47-year-old Gonzalez was arrested Monday after reporting to police headquarters and was charged Tuesday with shoplifting and criminal mischief.
He is accused of taking a $1,400 men's satchel from the Polo Ralph Lauren store in the Short Hills Mall on June 29.
Golf
Woods chooses kids over Scotland
Adare, Ireland — Tiger Woods says he's flying home to Florida rather than heading to Scotland to prepare for the British Open because he wants to see his children.
Woods is playing this week at an Irish charity golf tournament, where he shot a 3-under 69 Tuesday despite wind and sometimes heavy rain.
At a news conference after his round, Woods resorted to staccato half-sentences concerning his personal life. He said he needs to "get home." When asked why, he said: "See my kids." A final question asking whether he could concentrate solely on golf drew silence.
The British Open begins next week at St. Andrews.
Toms withdraws from Open
St. Andrews, Scotland — David Toms has withdrawn from the British Open to rest an ailing right shoulder, and Anthony Kim formally pulled out as he recovers from thumb surgery.
The Royal & Ancient said Tuesday they were replaced in the field at St. Andrews by Ricky Barnes and Davis Love III.
Cycling
Hushovd wins Tour's 3rd stage
Arenberg, France — Thor Hushovd has won a bumpy third stage of the Tour de France on cobblestones, while Lance Armstrong lost time to several other title contenders.
France's Sylvain Chavanel wore the yellow jersey during Tuesday's 132-mile ride from Wanze, Belgium, to Arenberg Porte du Hainaut. He had two flat tires on the cobbles and lost precious time.
Defending Tour champion Alberto Contador, whose skills on cobbles had been in doubt, and last year's runner-up Andy Schleck gained time on Armstrong.
Copyright 2018 The Associated Press. All rights reserved. This material may not be published, broadcast, rewritten or redistributed. We strive to uphold our values for every story published.