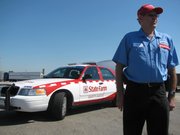 Topeka — Even if his customers wish they'd never have to deal with him, Don Mosher can't wait to get back to work.
Mosher returns to his on-the-road job Friday, once again cruising the Kansas Turnpike between Lawrence and Kansas City in search of stranded motorists as part of the turnpike's Safety Assist program. The program was restored after being idled in 2008 for budgetary reasons.
Whether it's a flat tire, overheated engine, empty fuel tank, broken fan belt or any other major problem that could use a minor repair, drivers can expect Mosher to pull up in a red-and-white car that signals help has arrived.
"We run up and down the road, making sure people aren't on the side of the road stranded," Mosher said during a program gathering at the turnpike's Topeka Service Area, where he received the last of his equipment before Friday morning's 6 a.m. shift. "We're here to help."
The $70,000 program — jointly financed by the Kansas Turnpike Authority and State Farm Insurance — resumes Friday morning, with vehicles and trained helpers patrolling three zones along the turnpike: Topeka to Lawrence, Lawrence to the Kansas City area, and Wichita to the Oklahoma border.
The vehicles will be on the turnpike from 6 a.m. to 10 a.m. and 3 p.m. to 7 p.m. weekdays, plus 3 p.m. to 7 p.m. Sundays. The assistance is free, intended to help motorists get back on the road safely, while also restoring proper traffic flows for everyone else along the turnpike's busiest stretches.
With so much construction occurring along the turnpike — ongoing replacement of Kansas River bridges through Lawrence and reconstruction of lanes northeast of town among the most disruptive — turnpike officials want to be sure that their customers are taken care of.
"The last thing we want is a breakdown or an accident in one of these construction zones," said Michael Johnston, CEO and president of the turnpike authority. "Anytime you have a blip, traffic just backs up and it gets worse and worse."
The program is set to continue through the Labor Day weekend, the traditional end of summer. Johnston is optimistic that Safety Assist will resume next year, likely with the arrival of Memorial Day weekend.
Roadside Assistance
Safety Assist, organized by the Kansas Turnpike Authority with financial help from State Farm Insurance, is designed to provide stranded motorists in the busiest areas — between Topeka and Kansas City, and from Wichita to the Oklahoma border — with help getting back on the highway.
When: 6 a.m. to 10 a.m. and 3 p.m. to 7 p.m. weekdays, and 3 p.m. to 7 p.m. Sundays.
Who: Any stranded motorist is eligible to receive free assistance.
What: Employees will change flat tires, add fuel to empty tanks, pour water into parched radiators, provide jump starts, replace broken belts or, if necessary, call a tow truck and transport drivers into town or to another safe area when necessary. Employees' vehicles are equipped with radios to communicate with dispatchers and Kansas Highway Patrol troopers, and also have wireless phones so that drivers can contact family or friends if need be.
How: Employees will drive an estimated 1,000 to 1,200 miles each week while on the job, looking for stranded motorists and others needing assistance. Stranded motorists also may dial KTA (582) to request response from Safety Assist.
Copyright 2018 The Lawrence Journal-World. All rights reserved. This material may not be published, broadcast, rewritten or redistributed. We strive to uphold our values for every story published.