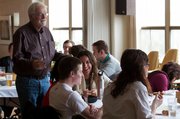 Facts about the Ministry of the Hearth campaign
• The goal is to raise $831,000. ECM has already raised $334,000 from 105 donors.
• $470,000 of the funds will go to mechanical upgrades, kitchen renovations and parking lot repairs.
• $224,000 will go toward a roof replacement and other interior building renovations.
• Another $130,000 is reserved for architect, engineering, campaign and contingency expenses.
• The public campaign kicks off from 5 p.m. to 7 p.m. Feb. 9 at ECM, 1204 Oread Ave.
For more information, contact Thad Holcombe at 843-4933, or visit ECM's Web site at ecmku.org.
A quick tour of Ecumenical Christian Ministries, at 1204 Oread Ave. near Kansas University's campus, highlights the need for upgrades to the building.
The oven in the kitchen, which feeds more than 200 people on Thursdays for ECM's "veggie lunch," requires a piece of wood propped against it to keep the door closed.
The outdated, massive steel air conditioner downstairs is so big that ECM pastor Thad Holcombe isn't sure how they'd even get it out of the building.
"It looks like a nuclear bomb," he said.
Those are just a few examples of the "no frills" upgrades the 50-year-old building needs to continue its wide variety of student and community programs. ECM has began a capital campaign, the first in its history, to raise $800,000 for building upgrades. The center has already raised more than $300,000, and will kick off its public campaign at the center from 5 p.m. to 7 p.m. on Feb. 9.
A decision to embark on a capital campaign was based on the functional and symbolic aspects of the building.
"The building was too much of a sacred place," said Holcombe, as the board had to make a decision to either sell or make needed upgrades to the building, which is listed on the state and national registers of historic places, and is due to be added this week to the Lawrence register. Holcombe said the plan for the new appliances is also to "green" the building, in line with its mission of sustainability.
Every week, hundreds of people from the community and KU use the building for an eclectic mix of spiritual and community programs — from tai chi to faith forums to the popular veggie lunch.
For KU senior Beth Ruhl, ECM provides students with a place to "explore who they are."
"Everyone's welcome," said Ruhl, who has gone on several alternative spring breaks organized through ECM. She interned with ECM last semester and sees the value ECM has to students.
"We are truly preparing the leaders of tomorrow," she said.
KU student Chelsea Mertz has been involved with ECM for three years and now teaches a cooking class in the outdated kitchen. She said she appreciates that ECM is a home away from home for some students.
"It's one place I truly feel welcome," she said.
For more information about ECM and its campaign, contact Holcombe at 843-4933, or visit ecmku.org.
Copyright 2018 The Lawrence Journal-World. All rights reserved. This material may not be published, broadcast, rewritten or redistributed. We strive to uphold our values for every story published.