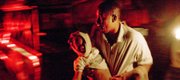 A 7.0 magnitude earthquake occurred 10 miles southwest of Port-au-Prince on Jan. 12, causing widespread devastation in Haiti's capital and throughout the country.
Topeka — Members of the Kansas National Guard are heading to Guantanamo Bay, Cuba, to help with U.S. efforts to aid earthquake ravaged Haiti.
A Kansas Air National Guard KC-135 will fly Friday to Cuba to take additional National Guard soldiers and supplies to the region. The soldiers and airmen could be deployed to Haiti as early as this weekend for up to four months.
The Commander of U.S. Southern Command told a Pentagon press conference Thursday that 120 to 140 flights a day are now able to land at the country's single airport in Port-au-Prince.
Gen. Douglas Fraser said officials have a waiting list of 1,400 flights seeking to get into the country.
An estimated 200,000 Haitians died in the Jan. 12 earthquake, with more than 2 million people left homeless.
Copyright 2018 The Associated Press. All rights reserved. This material may not be published, broadcast, rewritten or redistributed. We strive to uphold our values for every story published.