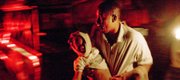 A 7.0 magnitude earthquake occurred 10 miles southwest of Port-au-Prince on Jan. 12, causing widespread devastation in Haiti's capital and throughout the country.
Photo Gallery
Earthquake strikes Haiti
Port-au-Prince, Haiti — Thousands of Haiti's quake victims are struggling to board buses to flee hunger and violence in the shattered capital, hoping that food will be easier to find in the countryside.
But both gasoline and food are scarce in Port-au-Prince, and bus drivers have hiked fares, forcing some to pay more than three days' wages for a seat.
"Thousands and thousands are leaving, I've never seen such a rush, even at Christmas," said driver Garette Saint-Julien, who was trying to manage the crowd Monday in front of his bus at the Portail Leogane, a suburb where buses gather for trips to Haiti's southern peninsula.
Upward of 1 million people may flee the Port-au-Prince area for the countryside, straining Haiti's already precarious farms, said Laurent Thomas, director of the U.N. Food and Agricultural Organization's emergency operations.
He said Haiti imported nearly half its food even before the quake and now needs expanded programs to boost production, especially with more people hoping to live on the land. Most Haitian farmers eke out a living on small plots that don't fully feed the people living there now.
"In a country where the farmers don't produce enough of their own food, imagine the disaster," Thomas told The Associated Press in Rome.
"The impact of the earthquake was localized, yes, but the magnitude of the emergency is national," he said.
Thomas said that nearly half the capital's people have ties to rural areas and will likely seek shelter there with family rather than stay in the flattened capital hoping for foreign aid.
"We've got no more food and no more house, so leaving is the only thing to do," said Livena Livel, a 22-year-old street vendor who was traveling to her father's house near the town of Les Cayes four hours south of Port-au-Prince.
"At least over there we can farm for food," she said, carrying her 1-year-old daughter, Othmeline.
Livel and the six relatives leaving with her said they'd scraped together the last of their money to pay for the trip.
"It's become insanely expensive," she shouted amid the animated crowd, saying the one-way fare had nearly doubled to the equivalent of $7.70 — more than three days' income for most Haitians.
Saint-Julien, the driver of a bus he'd named "Saint Yves" in bright, painted lettering, said he had no choice but to jack up his prices.
"It's not my fault, gas has doubled" because of shortages, said Saint-Julien, who is now paying $50 to fill his tank.
Copyright 2018 The Associated Press. All rights reserved. This material may not be published, broadcast, rewritten or redistributed. We strive to uphold our values for every story published.