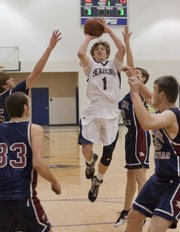 Blame it on the cold, the snow day or the odd, Saturday start time.
But don't expect to get much sympathy from Seabury Academy boys basketball coach Mike Harding.
Although Harding conceded those distractions were decent excuses, he didn't want to hear any of them leak from the mouths of his players after Saturday's 63-42 victory against Heritage Christian.
"Those were factors," Harding said. "But you know how coaches are."
After watching his team struggle to a 17-12 deficit after one quarter, this particular coach was thoroughly pleased with what he saw the rest of the way, as the Seahawks outscored the Eagles, 39-15, during the second and third quarters en route to the 21-point victory.
"The last five minutes of the first half was when we really picked up the intensity," Harding said. "And I think that's really what helped us win the game."
After scoring all 12 of his team's points in the first quarter — including a layup off of a rebound just before the buzzer — junior Reed Grabill scored the Seahawks' final 11 points of the half and Seabury built a 35-26 halftime lead.
In all, Grabill scored 38 points and added 15 rebounds. It was the third straight game he eclipsed the 30-point mark. He also recorded his third straight double-double.
True to his team-first form, however, Grabill was not interested in boasting about his stats after the game. Instead, he wanted to emphasize how pleased he was with the way his team broke out of its first-quarter funk.
"We started hitting our shots and that inspired us all to work harder, especially on the boards," Grabill said. "I thought it was great that we were able to pick each other up and get it going. It doesn't always have to be on your coach to get you going."
Such words were gratifying for Harding, who said he made his share of "suggestions" throughout the first quarter.
"I gave a few subtle hints," Harding said. "But I thought it was great how they responded. They've been playing together long enough to know what it takes and there's some good leadership on this team."
Although Grabill scored more than half of his team's points, he was not the only Seahawk to shine on Saturday.
Junior Skyler Malone added 11 points and eight rebounds, including knocking down three of five three-pointers. Two of Malone's triples came on back-to-back possessions in the second quarter after the Seahawks had gone 0-for-11 from three-point range to open the game. Despite the poor percentage, Harding said he had no problem with any of the shots.
"I didn't," he said. "Not at all. Because they were good shots. One or two of them might have been forced but the guys know that they have the green light to shoot it as long as it's within our offense and it's a good shot."
Senior Bill Gibbs (five points, four rebounds, four assists) followed Malone's triple with one of his own and the three-point barrage pulled the Seahawks to within two — 23-21 — after trailing 21-12.
Freshman Brandon McCaffrey also enjoyed success from behind the arc. Although he hit just one of the five he attempted, Harding said every shot McCaffrey took was exactly what the team needed at the time.
"We got some big minutes from Brandon today," Harding said. "He took good shots and was aggressive. Like I told him after the game, 'I think the light bulb finally came on.'"
The Seahawks' final feel-good three-pointer came in the waning seconds. After the Eagles put together a late spurt to make the score a little more respectable, Seabury reserve Guangwei Fu found himself all alone in the corner with time ticking down. With everyone in the gym yelling for him to shoot, Fu set his feet and fired. The ball hit the back of the rim and dropped straight through. During a timeout that followed, Fu was so excited about his bucket that he nearly forgot to head back onto the court for the final few seconds of defense.
The Seahawks (3-0) will face Christ Prepatory Academy on Tuesday at home.
Copyright 2018 The Lawrence Journal-World. All rights reserved. This material may not be published, broadcast, rewritten or redistributed. We strive to uphold our values for every story published.