Photo Gallery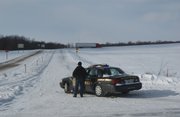 Jan. 6 Winter Storm
Photo Gallery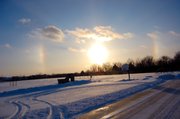 Winter Weather 2009-10
Winter Weather
Winter weather information
Kansas weather updates, via Twitter
9:14 p.m.
Wednesday's winter weather — high winds and periods of heavy snow — has made driving on area roads treacherous.
According to the Douglas County Sheriff's Office, two injury accidents and 23 non-injury accidents occurred in Douglas County after noon Wednesday. Twenty-six vehicles slid off roads or stalled in the snow.
Jordan Seaburn, who drove Interstate 70 Wednesday afternoon from Kansas City to Lawrence, said traffic was moving about 45 miles per hour.
8:25 p.m.
Visibility in downtown Lawrence has declined to 3/4 of a mile with winds blow sustained at 15 mph.
About three inches of snow accumulation have been reported in Lawrence so far.
6:24 p.m.
Road conditions continue to deteriorate in Lawrence and Douglas County.
The Kansas Department of Transportation declares all roads in Douglas County as completely snowpacked. Local crews have done some plowing and will continue to treat roads through the night.
6News Chief Meteorologist Matt Elwell said snow will end before rush hour on Thursday, but roads could still be slick. Elwell said the biggest concern would be strong winds whipping up the snow and limiting visibility on the roads.
5:25 p.m.
Closings are coming in steadily, with Lawrence schools calling off classes for the first time this year. Other school districts that are closed for Thursday include: Bishop Seabury Academy, De Soto USD 232, Ottawa USD 290, Tonganoxie USD 464, Eudora USD 491, Lawrence USD 497, Corpus Christi Catholic School, Raintree Montessori School and Children's Learning Center.
You can see all of the weather-related closings on our closings page.
6News Chief Meteorologist Matt Elwell said Lawrence has had between 1 and 2 inches of snow accumulation so far Wednesday, with an additional 1 to 2 inches of snow likely before the snow storm moves out of the area late tonight.
4:28 p.m.
Lawrence snow crews have been treating roads with a mixture of sand and salt throughout the morning and are now focused on clearing the streets. Their top priority is arterial roads, followed by "collector roadways." The city advises that roads are still very slick and motorists should exercise extreme caution when driving in the snow by driving slowly.
After the snow has stopped falling Wednesday evening, crews will continue to clear priority routes and begin plowing operations in residential neighborhoods.
The city will have help clearing roadways in residential areas on Thursday morning. An outside contractor will bring in equipment to plow and remove snow from residential streets. The Utilities Department will assist the street maintenance division with plowing. The Parks and Recreation Department will focus on parks facilities and downtown Lawrence sidewalks.
3:59 p.m.
The National Weather Service has issued a Wind Chill Warning for Douglas County and surrounding areas, including Jefferson County, effective Thursday evening through Saturday morning. Snowfall is expected to end and be replaced by dangerously cold wind chills. The Winter Storm Warning remains in effect until 6 p.m. Thursday.
3:03 p.m.
Commuters on the roads from Topeka and Kansas City report slick conditions on the Kansas Turnpike.
One driver from Topeka reported seeing a tractor-trailer cross all three lanes of traffic on the Kansas Turnpike before landing in a ditch.
The latest information from the Kansas Turnpike now lists all roads in Douglas County except the Kansas Turnpike as completely snowpacked. The Turnpike is still listed as partly snowpacked.
2:27 p.m.
According to the Kansas Department of Transportation, roads in Douglas County are partly snowpacked.
The City of Lawrence has been treating streets since 4 a.m. with a sand-salt mixture, and will begin plowing operations once accumulation reaches three inches. Many roads in Lawrence have significant accumulations along shoulders and in turn lanes, but relatively clear pavement in driving lanes.
The city also asks all motorists to move parked vehicles off city streets, if at all possible, to ease plowing and road treatment work.
You can report weather conditions on roads you've travelled in the comments below.
Stay with LJWorld.com for the latest winter-weather information.
12:58 p.m.
As the snow continues to fall, roads in Lawrence have become slick and many are becoming snow-covered.
Even the normally heavy-travelled downtown streets were becoming partly snow-covered.
Slow down and give plows a wide berth.
12:24 p.m.
Snow moved into the area around noon on Wednesday.
Snow had been falling all around Lawrence for several hours before it began falling in Lawrence.
The National Weather Service is predicting 1-3 inches of snowfall in Lawrence today, and another 1-3 inches of snowfall in Lawrence tonight.
Stay with LJWorld.com for updated and the latest closing information.
11:35 a.m.
Snow has formed a ring around Lawrence, with Topeka, Kansas City and points south and north reporting snow falling across the area.
The heaviest snow is still expected in Lawrence after lunch.
The National Weather Service is projecting 2-6 inches of snow accumulation in Lawrence during the snow storm.
The snow is expected to end during the overnight hours Wednesday night into Thursday morning.
There are numerous cancellations already announced for Wednesday and Thursday.
5:22 a.m.
The winter storm warning issued by the National Weather Service goes into effect at 6 a.m. today. Snow estimates call for as much as five inches, with a range from two to five. Temperatures will be hanging around in the mid-teens, though winds will make it feel colder.
City crews began treating Lawrence roads at 4 a.m. this morning in preparation for the impending snowfall. Crews will be working 12-hour shifts in an effort to keep the roads treated and ready.
Should the snowfall accumulation reach three inches, the crews will begin plowing operations to clear the roadways.
9:47 p.m. Tuesday
The snow is coming, but exactly how much is still yet to be seen. 6News Meteorologist Matt Elwell estimated the area could get as much as five inches of snow Wednesday, slightly more than originally projected.
5:48 p.m. Tuesday
The City of Lawrence will begin round-the-clock operations at 4 a.m. Wednesday, the city announced Tuesday afternoon.
The city has spent the past 24 hours restocking supplies of salt and sand and is expecting another 1,000 tons of salt to be delivered on Wednesday.
The city will begin treating roads with salt and sand at 4 a.m., and then continuing treating until snow accumulation reaches 3 inches.
The city urges all residents to move cars off city streets and warns that as the storm progresses, some residential streets may become impassable. The city focuses first on arterial and collector streets before moving onto residential areas.
4:21 p.m. Tuesday
The area is in for another wave of snowfall beginning Wednesday morning, but the wind and conditions that will follow on Thursday might be worse, said 6News Meteorologist Matt Elwell.
"People are going to hate Thursday more than Wednesday," said Elwell.
A Winter Storm Warning is in effect from 6 a.m. Wednesday until 6 p.m. Thursday for Douglas County and most of northeastern Kansas, with Elwell expecting 2 to 4 inches of snow in Lawrence. Elwell said snowfall will begin during the day on Wednesday and probably will wrap up by Wednesday evening.
But he said to expect strong winds, with gusts up to 40 mph on Thursday, which will cause wind-chill temperatures of 15 to 30 degrees below zero. Elwell said the wind could cause significant snow drifts, and he warned against "near whiteout conditions" on Thursday.
"It's going to turn bad really quickly," he said.
The extreme cold weather will continue Friday and Saturday, with lows below zero. There's a bit of good news on Sunday, when highs are predicted in the low 20s.
— Shaun Hittle
2:45 p.m. Tuesday
The National Weather Service in Kansas City has expanded the Winter Storm Warning to include the Kansas City metro area, including Wyandotte, Leavenworth and Johnson counties.
2:31 p.m. Tuesday
The National Weather Service in Topeka has issued a Winter Storm Warning for Douglas County — as well as Jefferson County — beginning at 6 a.m. Wednesday and running through 6 p.m. Thursday.
A winter storm watch is in effect for Leavenworth, Wyandotte and Johnson counties, while a winter weather advisory covers Shawnee and Franklin counties.
According to the National Weather Service, Lawrence and Douglas County are in an area that can expect 4 to 5 inches of snow with locally higher amounts. Winds of 20 to 25 mph, with gusts to 35 mph, will lead to blowing snow Wednesday night and all day Thursday.
Wind chills between -15 and -25 degrees are expected Thursday morning, with -20 to -30 degree wind chills on Friday morning.
Stay with LJWorld.com for the latest winter weather information.
Copyright 2018 The Lawrence Journal-World. All rights reserved. This material may not be published, broadcast, rewritten or redistributed. We strive to uphold our values for every story published.