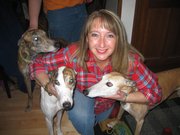 KENOSHA, WIS. — Seven dog tracks halted racing across the country last year, forcing hundreds of greyhounds into an uncertain future. With fewer tracks available for them to race, the sleek long-limbed dogs are now flooding the adoption market at a difficult time.
Economic hardships are preventing many dog lovers from adopting, or worse, forcing them to give back animals they can no longer afford to keep. Misconceptions about the breed — that greyhounds are hyperactive and crave constant stimulation and exercise — also scare away some potential owners, advocates say.
And most have spent their lives inside racetracks and kennels with little exposure to families, kids or even the most basic household activities, say greyhound lovers like Rhonda Mack, who took in two dogs from the Dairyland Greyhound Park in southern Wisconsin, which closed last week.
"You bring a dog home … They've never been outside the racetrack," said the 50-year-old from Lake Zurich, Ill., who now has three greyhounds, including new additions Lexi and Jack. "They go into your house — they don't know what a window is, they don't know what stairs are. They walk right into windows like they aren't even there."
The track in Wisconsin ran its last dog race on New Year's Eve; another in Phoenix and one in Massachusetts also ended dog racing last month, bringing the total to seven tracks that pulled the mechanical rabbit in 2009.
More than 1,000 dogs
There are no precise figures, but greyhound advocates estimate more than 1,000 greyhounds now need new homes. That's in addition to the best racers, who will be sent to tracks that remain open elsewhere or to breeders.
Since greyhound racing began decades ago, there's always been an issue of what to do with retired race dogs. Previously they largely found homes through a fragmented network of breed adoption and other placement groups, but the recent deluge of dogs in need of dwellings has magnified the issue.
"It is a domino effect," said Michael McCann, president of The Greyhound Project Inc., a Boston-based nonprofit that provides support and information about greyhound adoptions. "Everything that happens in one state affects … the dog adoption effort in other states."
It doesn't help that the economic downturn has made some people hesitant to become dog owners and pushed others to give up their pets because of the costs of caring for them. The American Society for the Prevention of Cruelty to Animals estimates that as many as 2 million pets have been abandoned since the recession began in December 2007.
Decline in tracks
Modern day greyhound racing started in 1919 in California and at its height in the 1990s, more than 50 tracks operated nationwide. The number of tracks offering races has steadily decreased in the past decade, from 46 in 15 states in 2001 to 30 at the start of 2009. This year, no more than 23 tracks in eight states will operate dog races.
Year-round racing in some states has pushed seasonal tracks out of business or track owners aren't able to afford the high taxes, said Tim Horan of the National Greyhound Association, which represents greyhound owners. Competition from other sporting events and gambling hasn't helped, he said.
In Massachusetts, two tracks ended racing last year after voters approved a ballot question sponsored by the group Grey2K, which claimed widespread mistreatment of greyhounds, including confining them in small cages in warehouse-style kennels.
The racing industry nationwide vigorously defends its record on the treatment of dogs during and after their racing careers.
With so many dogs needing homes, Kevin Neuman of Overland Park, Kan., started the nonprofit greyhoundcentral.org, which he hopes will serve as a clearinghouse for greyhound adoption.
The aim is to connect available dogs to owners, as well as people willing to transport animals from kennels in one state to new homes in another, said Neuman, who has adopted 11 greyhounds over the past 16 years.
When Woodlands Greyhound Park in Kansas City, Kan., closed in 2008, Neuman said his group found homes for some 500 dogs, including about 200 placed in adoptive homes in the area.
He worries the outcome won't be as positive for these canines.
"There are many ways for these dogs to disappear, to go to tracks that might be outside the country, in Mexico for example," where the dogs might be run harder and get less adequate care, he said.
Keeping dogs safe
Still, there are some safeguards.
Wisconsin state law requires that all greyhounds be adopted, sent to another racetrack or returned to their owners.
The Massachusetts Racing Commission requires that no greyhound be euthanized unless all "reasonable efforts" to place the dog for adoption have been exhausted. Owners must provide the commission with a detailed explanation as to why a dog was put down rather than adopted.
And in New Hampshire, where two tracks ended racing, only greyhounds that sustain severe injuries while racing can be euthanized.
In Wisconsin, the Dairyland track has offered a $5,000 incentive to its kennels to find all dogs homes by Feb. 5. General Manager Bill Apgar said even if that deadline is not met, the kennel compound will remain open until all are placed.
On a recent visit to the track's kennel, there were some positive signs. Almost all the dogs' cages had "adopted" signs on them. The message on the scoreboard read: "Retired greyhounds make great pets. Visit our 1st floor adoption office to find out more!"
"We are just besieged with adoption requests," Apgar said.
Greyhound lovers are constantly trying to clear up misconceptions about the breed. Despite their athletic training and competitive instincts, the dogs are calm, easy to care for and do not require constant exercise as might be assumed, they say.
"If you want a dog to go play Frisbee with, this isn't it," said Kari Morrison Young, director of Arizona Adopt-A-Greyhound.
Lynn Rapa of Methuen, Mass., has adopted six former racing dogs.
As "sight hounds," they are bred to chase a lure, so that chase instinct could be a problem in homes with cats or other small pets, she said. Rapa recommends that greyhounds be kept in a fenced backyard or on a leash.
Copyright 2018 The Associated Press. All rights reserved. This material may not be published, broadcast, rewritten or redistributed. We strive to uphold our values for every story published.