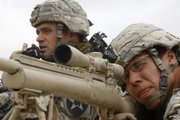 Marjah, Afghanistan — Afghan officials say outnumbered Taliban fighters are mounting a tougher fight than expected in Marjah, as U.S.-led forces converge on a pocket of militants in a western section of the southern Afghan town.
Despite continuing fighting, Marjah's newly appointed civilian chief planned to fly into the town today for the first time since the attack to begin restoring Afghan government control and winning over the population after years of Taliban rule.
With fighter jets, drones and attack helicopters roaring overhead, Marine and Afghan companies advanced Sunday on a 2-square-mile area where more than 40 insurgents were believed holed up.
"They are squeezed," said Lt. Col. Brian Christmas, commander of 3rd Battalion, 6th Marine Regiment. "It looks like they want to stay and fight but they can always drop their weapons and slip away. That's the nature of this war."
U.S. officials signaled their intention to attack Marjah, a major Taliban supply and opium-smuggling center, months ago, apparently in hopes the insurgents would flee and allow the U.S.-led force to take over quickly and restore an Afghan government presence.
Instead, the insurgents rigged Marjah with bombs and booby traps to slow the allied attack, which began Feb. 13. Teams of Taliban gunmen stayed in the town, delivering sometimes intense volleys of gunfire on Marine and Afghan units slogging through the rutted streets and poppy fields.
Afghan Defense Ministry spokesman Gen. Mohammad Zahir Azimi said the U.S. and its allies had expected the Taliban to leave behind thousands of hidden explosives, which they did. But they were surprised to find that so many militants stayed to fight.
"We predicted it would take many days. But our prediction was that the insurgency would not resist that way," Azimi told The Associated Press in Kabul.
In a statement Sunday, NATO acknowledged that insurgents were putting up a "determined resistance" in various parts of Marjah, although the overall offensive is "on track."
Marine spokesman Lt. Josh Diddams said Sunday that Marines and Afghan troops were continuing to run into "pockets of stiff resistance" though they were making progress. Diddams said no area is completely calm yet although three markets in town — which covers about 80 square miles — are at least partially open.
"Everywhere we've got Marines, we're running into insurgents," Diddams said. In many cases, the militants are fighting out of bunkers fortified with sandbags and other materials.
Before the assault, U.S. officers said they believed 400 to 1,000 insurgents were in Marjah, 360 miles southwest of Kabul. About 7,500 U.S. and Afghan troops attacked the town, while thousands more NATO soldiers moved into other Taliban strongholds in surrounding Helmand province.
It was the largest joint NATO-Afghan operation since the Taliban regime was ousted from power in 2001.
NATO's civilian chief in Afghanistan, Mark Sedwill, said the military operation was moving slowly "because of essentially the ruthlessness of the opponent we face and the rules that we've set for ourselves" to protect civilians.
"We could have swept through this place in a couple of days but there would have been a lot of casualties." he said.
NATO said one service member died in a roadside bombing Sunday, bringing the number of international troops killed in the operation to 13. At least one Afghan soldier has been confirmed dead. Senior Marine officers say intelligence reports suggest more than 120 insurgents have died.
Copyright 2018 The Associated Press. All rights reserved. This material may not be published, broadcast, rewritten or redistributed. We strive to uphold our values for every story published.