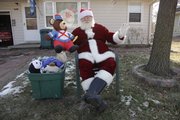 Chris Hartman has a fairly simple rationale for why he has dressed up as Santa for the past 30 years: He looks a lot like good old Kriss Kringle.
"I have this body, this face," the 50-year-old Lawrence man said, tugging at his white beard and patting his ample midsection. For good measure, he and his alter ego share a first name, Hartman adds.
Shortly after Thanksgiving Day, Hartman assumes his role as one of the Lawrence area's Santas, making appearances around town. But like a method actor, Hartman maintains his Santa persona all day long throughout the holiday season. On a recent weekday, Hartman showed off his west Lawrence home and his "Santa room."
"As you can see, they're everywhere," Hartman said, walking around the spare bedroom that houses more than 1,000 Santas and related Kriss Kringle memorabilia — everything from extra Santa suits to Harley-Davidson Santa hats. As he began dressing as Santa in the early 1980s, friends started giving him Santa stuff.
"It's spilled out everywhere," he said.
Hartman will soon hop into his sleigh — a door-less, red convertible Chrysler LeBaron — and head to an appearance. He's got a few extra minutes, so he sits down on a chair in his yard and waves at drivers cruising down Ninth Street.
He makes a little money for some of his appearances, but clearly Hartman's commitment to the role transcends mere financial gain.
"I do it for the spirit of Christmas," Hartman said.
And for a smile.
"People are just ecstatic" when they see him, Hartman said. "Even people that seem grumpy."
Copyright 2018 The Lawrence Journal-World. All rights reserved. This material may not be published, broadcast, rewritten or redistributed. We strive to uphold our values for every story published.