It may be gray outside when the calendar flips to 2011, but a bright red-pink hue will be in fashion.
"Honeysuckle" is the color of 2011 chosen by Pantone Color Institute, the research arm of Pantone Inc., the company that largely sets color standards for the fashion and home industries.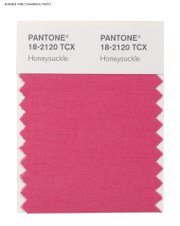 The reddish pink shade lights a fire to your senses and revs you up, says Leatrice Eiseman, executive director of the Pantone Color Institute.
It's much livelier than 2010's color of the year: turquoise.
That was supposed to have a calming, escapist effect on the public's collective psyche after all of the bruising economic challenges, Eiseman says, but now we're ready for something stronger while still not moving quite at full-steam ahead.
"The color says we need to be hopeful and think of things that satisfy as many senses as we can," she says.
Eiseman studies trends adopted by designers, manufacturers and retailers, as well as indicators of public opinion, before making her prediction for the new year.
For some, honeysuckle will evoke a sweet taste, a happy childhood memory or the sound of hummingbirds, offering a hint of nostalgia within the otherwise energetic color, she says.
Eiseman does acknowledge, though, that others might be confused about the name because the honeysuckle flower can be shades of white or yellow, too.
Designer James Mischka, half of the Badgley Mischka duo, is in the I-thought-honeysuckle-was-yellow camp, but he's a fan of the red-pink color when it comes to fashion. "It's a really important color for us to get in for spring. It's a real strong color, but it's wearable for lots of skin types."
Copyright 2018 The Associated Press. All rights reserved. This material may not be published, broadcast, rewritten or redistributed. We strive to uphold our values for every story published.