Photo Gallery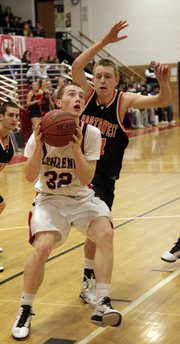 Lawrence High boys vs. Shawnee Mission Northwest
The Lawrence High boys were not as fortunate as the girls on Friday. Despite jumping out to a 17-12 first-quarter lead, the Lions (2-3) were victimized by 37 points from SM Northwest's AJ Spencer and fell 71-60.
During the past few seasons, Spencer has been one of the tougher players in the Sunflower League. The Lions knew that; there just wasn't much they could do about it. Spencer hit 14 of 23 shots and nine of 10 free throws to lead the Cougars to a big road victory heading into winter break. At one point, early in the second quarter, Spencer scored eight straight for the Cougars, who turned a 22-19 deficit into a 39-31 lead at halftime.
"If he comes in and has 20-something, we would've been fine with that," LHS coach Mike Lewis said. "His 30-something beat us."
LHS had no answer for Spencer, who drove, hit jumpers and set up teammates for buckets all night long. Offensively, the Lions were able to keep up. LHS hit 10 three-pointers (five from junior KJ Pritchard) and trimmed the SMNW lead to as few as eight in the final minute before falling.
Pritchard led the Lions with 24 points. Junior Logan Henrichs added 19, including seven rebounds, three assists and two steals.
"It would've been nice to win this one, but this just makes us think about things on a whole new level," Henrichs said. "I think we're better at this point than we were last year. We know each other a lot more. But we've still got work to do."
Copyright 2017 The Lawrence Journal-World. All rights reserved. This material may not be published, broadcast, rewritten or redistributed. We strive to uphold our values for every story published.