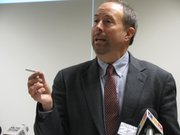 -->
Topeka — The state's top health official said Monday that before lighting up, every smoker should look at the cigarette and ask him or herself, "Is this the one" that could lead to a fatal illness?
The question refers to a new government study that says cell damage and tissue inflammation from tobacco smoke are immediate, even from second-hand smoke and can lead to cancer, heart attack or stroke.
"Wherever the chemicals in tobacco smoke travel in your body, they are able to inflict damage to your DNA," said Dr. Jason Eberhart-Phillips, Kansas state health officer and director of health in the Kansas Department of Health and Environment.
"Once damaged, cells grow out of control and can cause cancerous tumors," Eberhart-Phillips said. The mix of chemicals in cigarettes is addictive and deadly, he said.
"One couldn't have invented a more efficient way to transmit poisonous substances."
Eberhart-Phillips held a news conference to highlight the newest U.S. Surgeon General's report on the effects of smoking.
Although the link between smoking and disease has been documented many times by the U.S. Surgeon General's office since the 1960s, health officials hope the new report, released last week, will increase a sense of urgency among people, especially youngsters, to quit smoking or never start.
"The chemicals in tobacco smoke reach your lungs quickly every time you inhale, causing damage immediately," said U.S. Surgeon General Dr. Regina Benjamin.
To help Kansans quit smoking, KDHE provides free cessation counseling through its toll-free Kansas Tobacco Quitline at 1-800-QUIT-NOW. Currently the Quitline is offering free nicotine patches or gum to qualified Kansas tobacco users while supplies last.
Eberhart-Phillips urged smokers to quit, saying the risks of heart attack, cancer and stroke diminish greatly several years after a smoker stops.
"It's never too late to quit, but the sooner the better," he said.
The new Surgeon General's report, "How Tobacco Smoke Causes Disease: The Biology and Behavioral Bases for Smoking-Attributable Disease," can be viewed at surgeongeneral.gov.
Copyright 2018 The Lawrence Journal-World. All rights reserved. This material may not be published, broadcast, rewritten or redistributed. We strive to uphold our values for every story published.