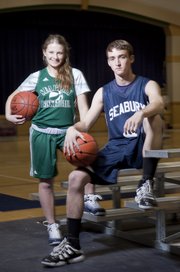 Seabury Academy boys basketball coach Ashley Battles tells you about the seniors first, but you sense he's hiding something.
Reed Grabill, a 6-foot-2 post player, scored 20 points and grabbed seven rebounds a game last season. Skyler Malone, a 6-1 guard, does a little bit of everything. Twins Josh and Johnny McDermott are newcomers but will be starters.
Finally, he gets to the piece that might help the Seahawks crack the Class 1A top ten this season: freshman guard Khadre Lane.
"He's a special talent, no matter what class you're looking at," Battles said. "And especially on the 1A."
Lane transferred into Seabury in eighth grade. He was invited to Late Night in the Phog as a recruit and participated in the KU Elite camp this summer.
Battles voice remains stoic, but you can tell he's giddy about Lane's potential.
"Runs like a gazelle, jumps like a kangaroo," Battles said. "He's the kind of the kid that's got to develop his skills as well as his feel for the game, but if he continues to do that and work as hard as he's worked, he'll be special."
The season starts Friday with a big test — Seabury heads to Olpe, ranked second in the Kansas coaches' 1A poll.
"We're coming out and playing a team that should be a great measuring stick for us," Battles said. "And let us know what we need to do if we want to be one of those top 10 teams."
To open the season, Battles, in his first varsity job at Seabury, wanted to run the fast break and play tough defense. But a lack of depth might force him to slow things down and grind out some wins.
Winning isn't foremost on the mind of girls basketball coach Becky Bridson. Two years ago, there wasn't even a girls program at Seabury.
"We're kind of starting from scratch," Bridson said. "When coaches say they're working on fundamentals with their team, we're literally working on fundamentals."
The team returns 13 or 14 players from last season, but some 75 percent of the roster hadn't played basketball until last season. An athlete herself, Bridson said coaching at Seabury for the last five years has really changed her perspective on the relative importance of winning.
"If we win a few games, great," Bridson said. "If not, then we're building a program and it's going to take time."
The girls team doesn't play its first game until after winter break. Bridson said she loves all the practice time, even if the kids want to play games right away. Preparation and practice will help the team competes
The varsity roster consists of senior Angela Thomas, junior Hannah Spomer, sophomores Padget Sutherland, Emily Padgett, Maddie McCaffrey, Raquel Dominguez and Taylor Sweeney, and freshman Lexi Brady.
"We've already seen tons of improvement," Bridson said.
Copyright 2018 The Lawrence Journal-World. All rights reserved. This material may not be published, broadcast, rewritten or redistributed. We strive to uphold our values for every story published.